Splashing in a new era in Myanmar
Yangon, April 27, 2016 -- I was more than pleased when I learned that I would catch the annual Thingyan water festival in Myanmar, my new posting. I had a feeling that the event would be a bit different this year.
The festival is a tradition that goes back through ancient kingdoms and marks the Buddhist New Year. During the normally four-day-long celebration, revelers pour water all over each other in the streets, symbolizing spiritual cleansing and the changing of the season.
I had a hunch that this year's celebration would be especially festive as the country is becoming a democracy, recovering from a military dictatorship. And that is what I wanted to show -- the strong feeling of excitement that I saw on the streets, where people generally told me they were much happier with the new government.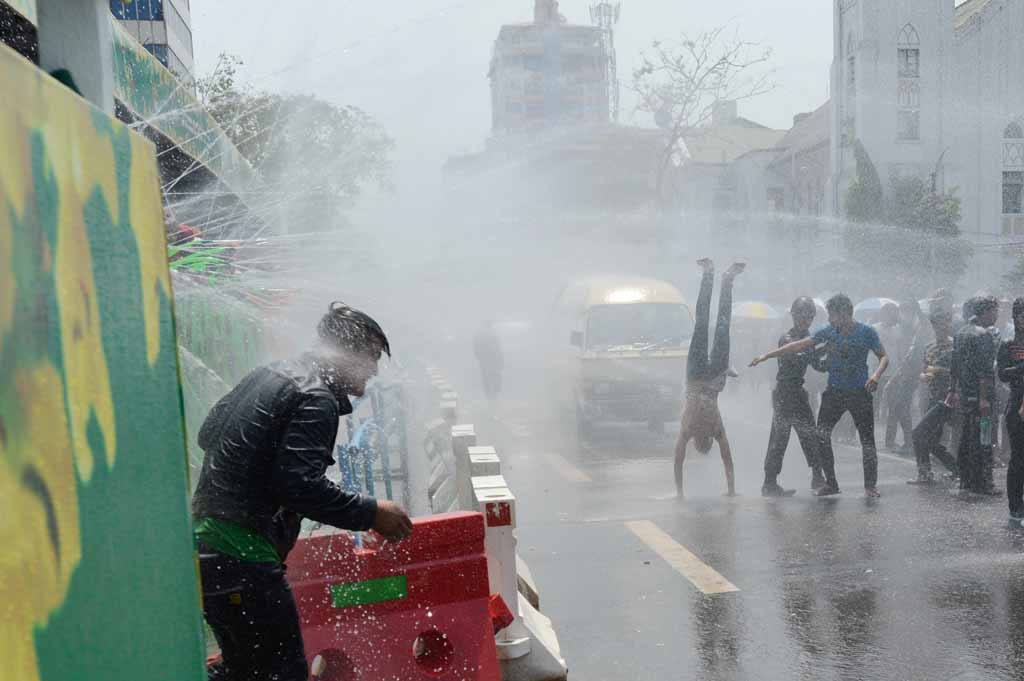 (AFP / Romeo Gacad)
I started preparing for the festival -- which this year lasted for five days because it's a leap year -- by looking at pictures of previous years. I wanted to do something different. I didn't want to show only the bleachers constructed by commercial companies; I wanted to show more of the people and the celebration and less of the commercial symbols.
The thing that surprised me the most was the hundreds of water hoses, the same type used by firefighters. The water pressure in those is pretty high and can throw you off balance. So I stayed away from them.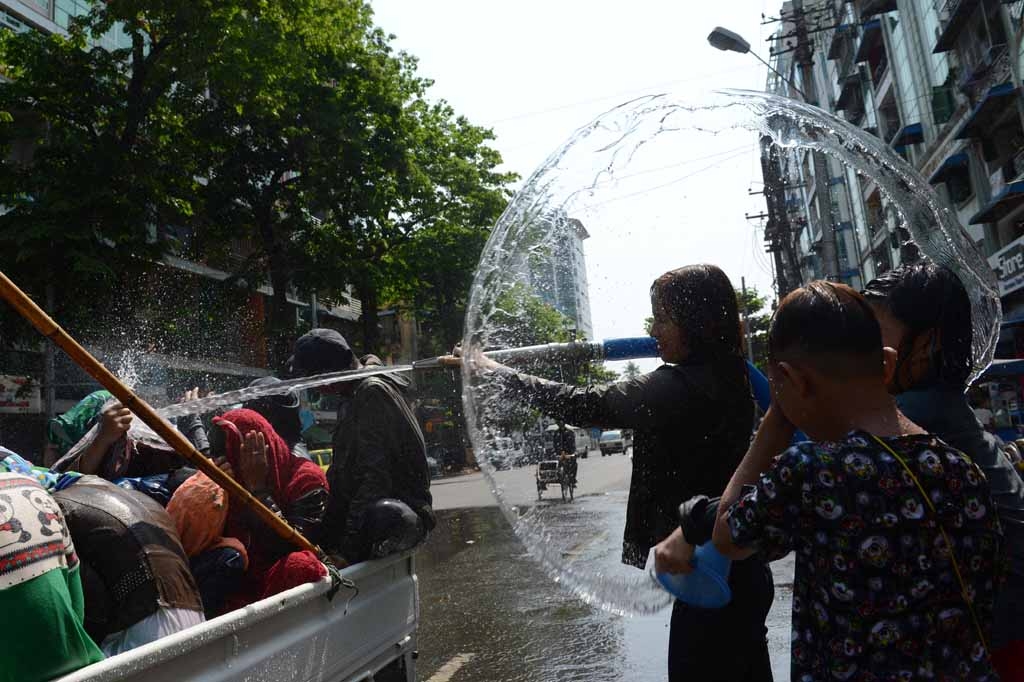 (AFP / Romeo Gacad)
I got wet every day, but it was a lot of fun. Since I do diving, I had all the water protection gear and went fully prepared on the first day: I had a Nikon D4 camera in plastic underwater housing. I also had two waterproof pouches for my phone and two dry towels wrapped in plastic for when I needed to dry the camera out. I had decided to get really wet, at least on the first day.
In some areas, there were bleachers on each side of the main streets, where men, women and children would stand up on the first and second rows holding more than a hundred high pressure small water hoses. The smaller ones could reach between 10 to 15 meters. Older people, in their 50s or 60s, held higher-pressure hoses. Some trucks were armed with electric generators to pump water through the hoses as well.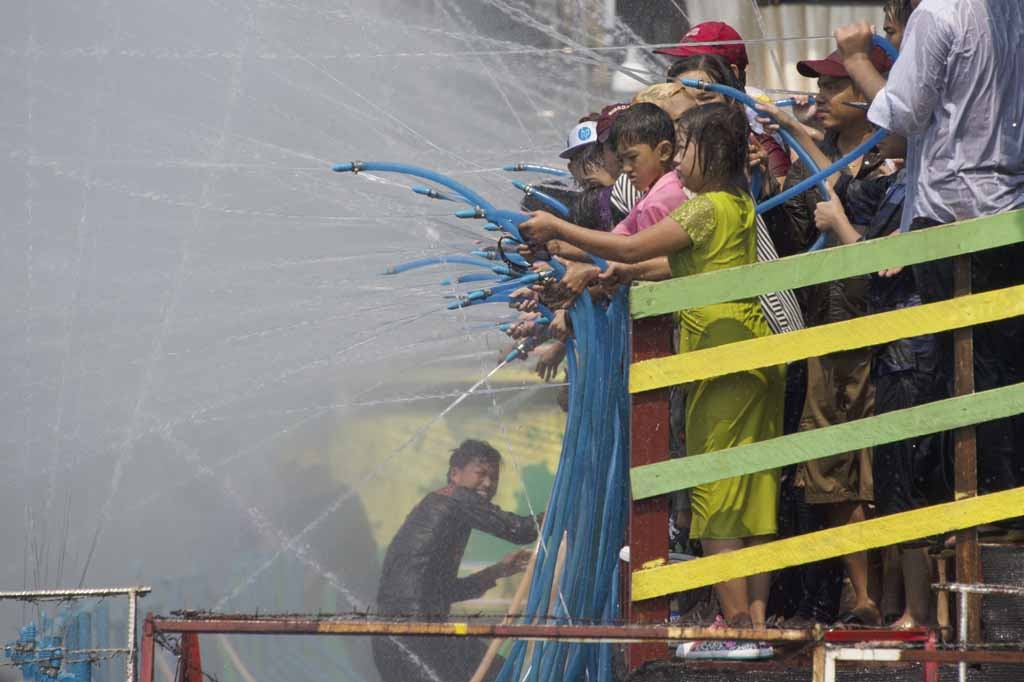 (AFP / Romeo Gacad)
On the streets, most people were dancing, shouting, and getting sprayed continuously with water as they rode in cars and trucks. Kids had water guns, plastic buckets and anything they could get their hands on that could be used to throw water. Some of the water used came from the city's water system and it was nice and clean, but in some parts of the city the water came from deep wells and had a brownish color to it.
It's the peak of the summer in Myanmar now and temperatures were hovering around 41-43 degrees Celsius. Some threw tepid water, some put blocks of ice in their huge water containers to make theirs super-cold.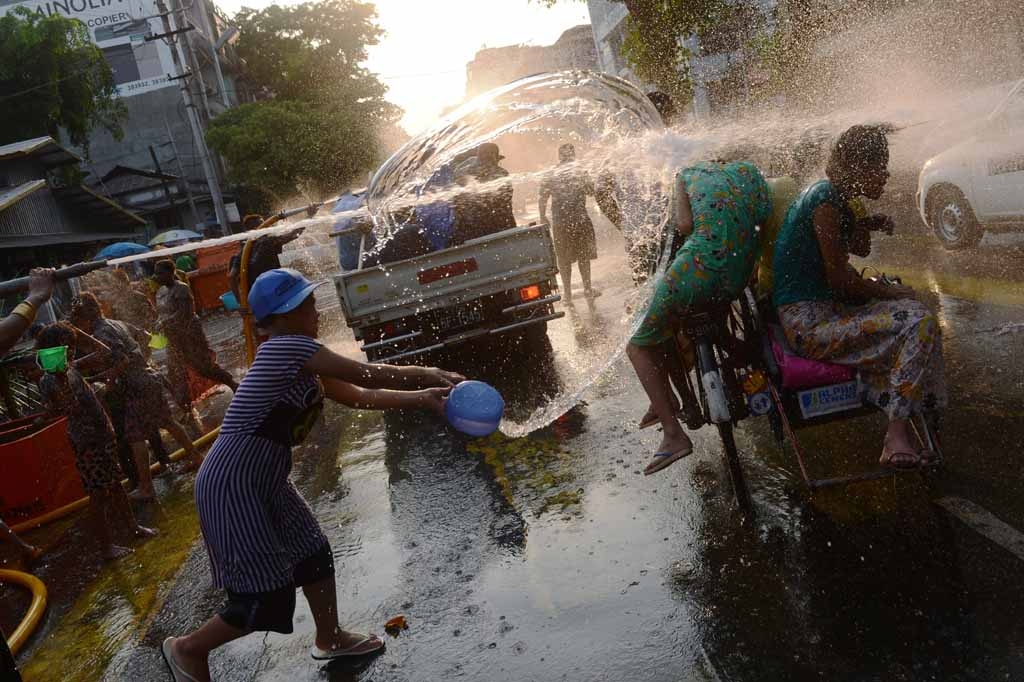 (AFP / Romeo Gacad)
At one point, on the first day, while I was standing at an intersection preparing to shoot, someone came from behind me and poured really cold water on my back, making me jump and shout. I turned around just to find a few really small boys and girls smiling and laughing at me. Seeing them laughing made me laugh too.
It wasn't always easy to shoot while facing water hoses. Often I wouldn't look through the camera and would just try to calculate the shots, snapping pictures while turning away from the hoses. So I didn't really know what I was shooting because it was difficult to look through the water protection gear. That's why I only used the water protection gear the first day.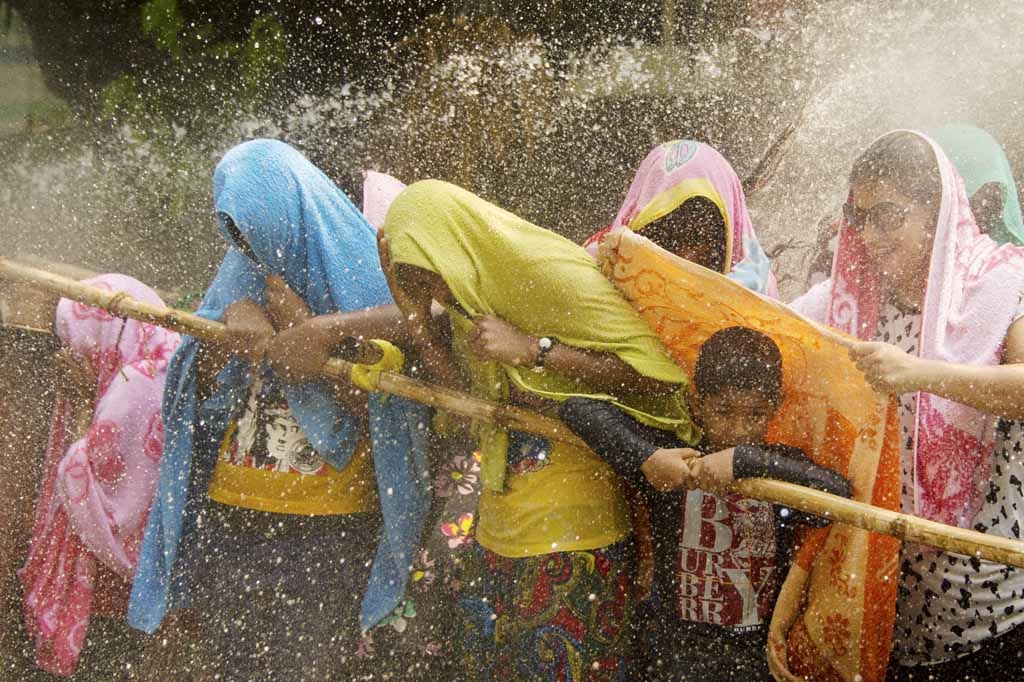 (AFP / Romeo Gacad)
The first day taught me a lot about protecting the camera from the water. When a person was pointing the water hose at me, I would put the camera away. The camera would get a little wet, but good professional cameras can stand rain and some amount of water splashing. So, every time the camera would get wet, I would move away to a safe place, behind a tree, for example, remove the filter, towel dry the camera a bit and wait for it to dry out before heading out to the action again.
I tried to stay away from the main roads, instead seeking out small side streets where kids were playing with water guns. At a certain point, a taxi stopped near me, with a family inside. Kids came up to the car and started spraying water inside with their water guns. Some had water buckets. The people inside tried to turn away from the water, but they got completely drenched anyway.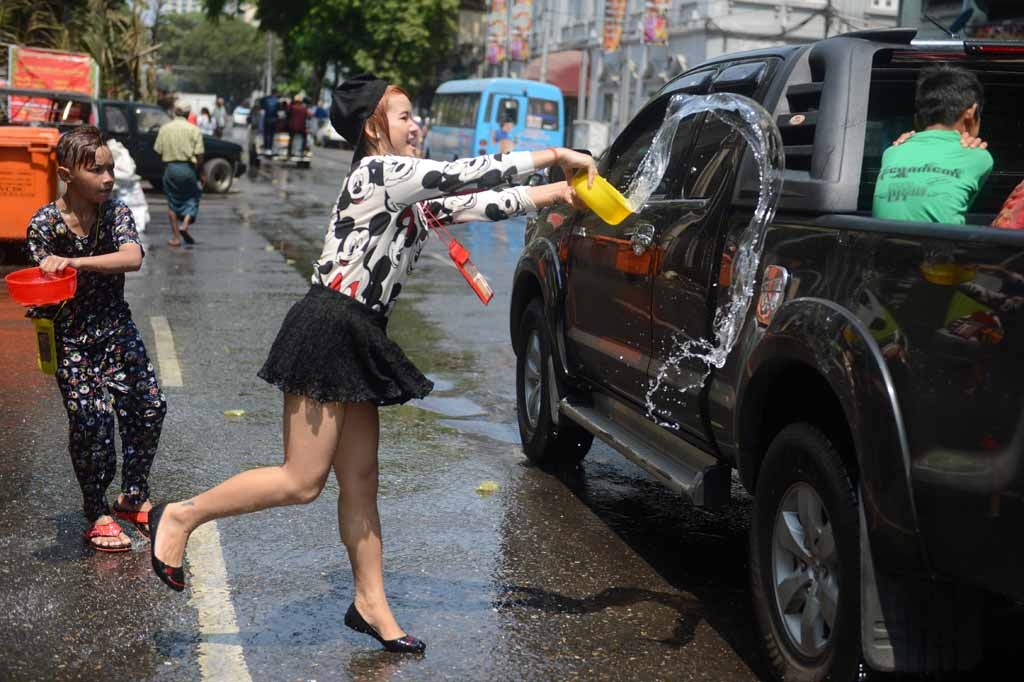 (AFP / Romeo Gacad)
But nobody got angry. Everyone took it in good fun and was laughing. The driver wasn't worried because, like many other cabs and cars in town, he had prepared for the festival by covering the seats with plastic.
I shot from morning until sundown, when the sunset light would make the colors of the photos much warmer. Around 11am I would stop to edit the pictures, organize them and send them out. Then head back to work until around 6pm-ish.
I never went hungry -- during the entire festival, residents prepare food and served warmly to passersby by neighborhood volunteers. You could find small plastic tables with free, delicious food on them all over the city. Any stranger was welcome to eat it.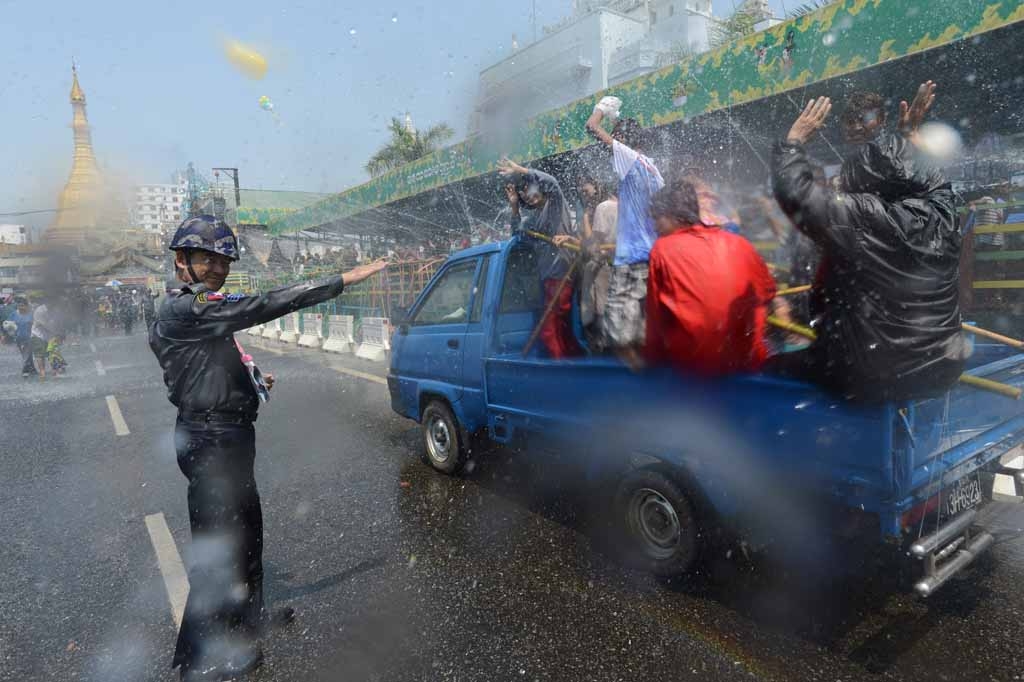 (AFP / Romeo Gacad)
Plenty of times, I was pulled off the street by residents, who invited me to have lunch, serving me fresh vegetables, chicken, noodles, soup, dessert, and drinks. That's part of the festival -- the tradition of purification and charity and one that people were quite proud of. To tell you the truth, it was touching to feel this sense of good will in the city.
Among all the fun, there was a strong spiritual dimension to the celebration. The festival celebrates purification that accompanies the New Year. Facing a fresh beginning in a country experiencing a dramatic transformation after decades of repressive military rule is truly the triumph of democracy.
And to me, that is what the festival meant -- a new, joyful beginning.
This blog was written with Michelle Inaba in Paris.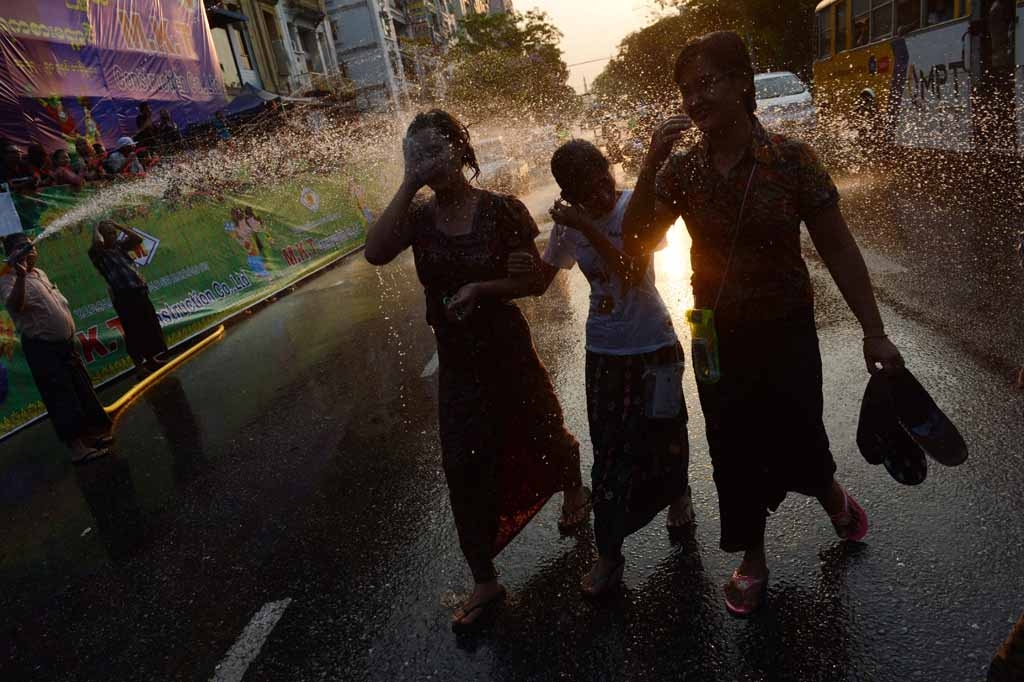 (AFP / Romeo Gacad)