Santa Muerte and its hold over Mexico
Tultitlan, Mexico, March 8, 2016 -- At the welcome gate of Arteaga, the mountain hometown of Knights Templar drug cartel honcho Servando "La Tuta" Gomez, stood two shrines dedicated to Santa Muerte. It was my first time inside a chapel of Mexico's Death Saint. Worshippers had left candles, handwritten notes and statuettes of the Grim Reaper-like figure on an altar.
The image was too good to leave it out of my story about the capo's town, where many saw him as a benevolent bandit who sent toys to children at Christmas. My colleague, photographer Ronaldo Schemidt, took pictures of the altars.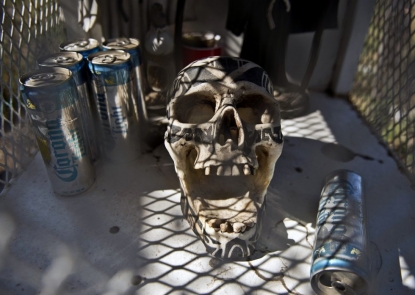 A shrine at the entrance to Arteaga. May, 2014. (AFP / Ronaldo Schemidt)
"At its entrance, a traffic sign is pocked with seven rusted bullet holes. Two shrines to Santa Muerte, the scythe-wielding skeleton saint worshipped by criminals, stand near Arteaga's welcome gate," I wrote in that article in May 2014.
Not only for the underworld
Moments after I tweeted the story, Santa Muerte scholar Andrew Chesnut, of Virginia Commonwealth University, replied to remind me that narcos were not the only people who worship Holy Death.
In fact, he estimates that 10-12 million people in Mexico, Central America and the United States pray to her. I knew about its broad appeal, as I had seen ordinary people in Mexico City wearing T-shirts featuring Santa Muerte or wearing her on their skin, tattoos for life (or until the Grim Reaper comes for them).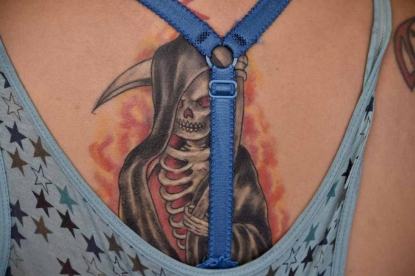 A woman with a Santa Muerte tattoo on her back. Tultitlan. February, 2016. (AFP / Yuri Cortez)
Rightfully called out for my journalistic shorthand, I promised myself that I would one day write a proper story on Santa Muerte, whose growing popularity is causing concerns in the Roman Catholic church.
My chance came when Pope Francis announced that he would visit the world's second biggest Catholic country between February 12-17.
Covering a country as complex as Mexico is hard enough. Understanding why people turn to certain religions or beliefs can be a via crucis for the uninitiated.
So I called Chesnut to get a "Santa Muerte 101" lesson.
Click here to watch on a mobile device.
The Spanish conquistadores had brought images of the Grim Reaper to the New World. In the 18th century, the Catholic Church discovered that indigenous groups had turned the reaper into a saint and decided to destroy the shrines. So the skeleton saint went underground for centuries, until anthropologists found devotees again in the 1940s. This time, the worshippers were women who prayed to make their husbands' mistresses disappear.
But her popularity skyrocketed in 2001, when a woman known as Dona Queta brought her skeleton out in the street in Mexico City's rough neighborhood of Tepito. People suddenly came to her shrine in droves, revealing the extent of the folk saint's following.
Chesnut suggested that I see Dona Queta and and another woman: Enriqueta Vargas, who leads a congregation with a giant statue of the black-cloaked Santa Muerte in Tultitlan, a suburb of the capital.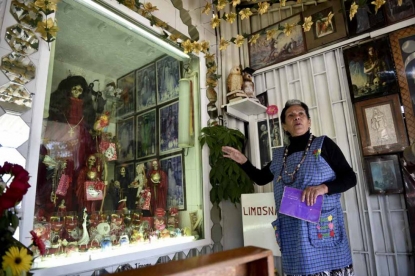 Dona Queto in Tepito. February, 2016. (AFP / Yuri Cortez)
As we drove to the gritty, concrete-laden city on a sunny Sunday morning, the dark figure suddenly rose in front of us off a busy boulevard. We knew we had reached our destination. The fiber-glass behemoth stood 22 meters (72 feet) tall, with its skeletal arms stretched out but no scythe in hand. It towers over a concrete lot, where a tent was raised to keep dozens of plastic chairs in the shade.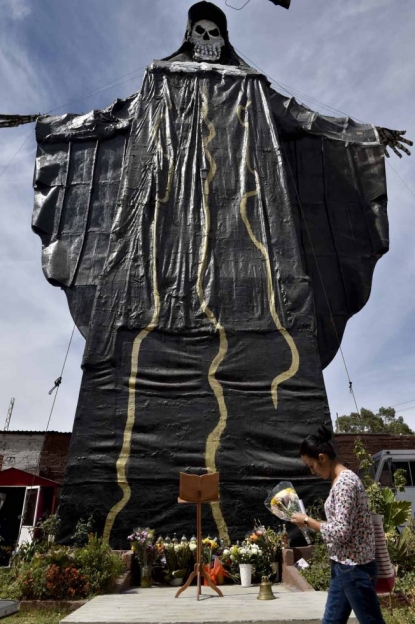 Santa Muerte in Tultitlan. February, 2016. (AFP / Yuri Cortez)
There are six shrines there, each with a Santa Muerte figure wearing a dress, each chapel representing a different theme, including love, money and health. People left tequila, roses, cigarettes, candles, apples and candy (lots of marshmallows. Apparently the skeleton has a sweet tooth). They also placed pictures of missing loved ones in a country where more than 26,000 have disappeared in drug-related violence.
They left notes asking Santa Muerte to help a son come out of prison, or to help them sell a home, or to thank her for making a loved one healthy. For matters of the heart, worshippers went into a shrine where they were greeted by a skeleton in a red dress. People left her roses, pictures and notes. 
From all walks of life
Some 300 people arrived for the ceremony. I didn't meet any drug cartel capos or cold-blooded hitmen there. There were couples with children, elderly women, a chemist, a teacher, a street hat salesman, a construction worker, an unemployed man, but no Chapo or Tuta types.
While narcos pray to Santa Muerte for help in annihilating their enemies or making sure their cocaine shipments safely get to places like Chicago, most people plead for help in love, money, health and other non-criminal things.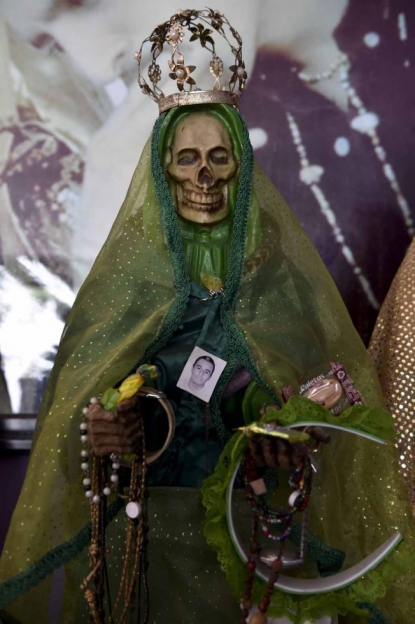 Tultitlan, February, 2016. (AFP / Yuri Cortez)
That Sunday morning in Tultitlan, we met a young couple who came for a second baptism for their three-month-old daughter, all dressed up in a white gown. Two weeks earlier, they had baptized the girl at a Catholic church. This time, Santa Muerte priestess Enriqueta Vargas sprinkled rose petal-infused water on the baby under the giant statue.
Before her mass-like ceremony, Vargas made a point of asking people what they did for a living, and pointedly said that journalists always came looking for criminals among them, but never find what they are looking for. I made a point of writing that in my story about her outdoor temple.
But it's hard for the controversial icon to shed its image as a goddess of the underworld.
A Santa Muerte image found next to a truck after an operation targeting the then fugitive drug kingpin Joaquin "El Chapo" Guzman in the Durango state. October, 2015. (AFP/Ronaldo Schemidt)
Chestnut noted that the pope himself apparently made a veiled criticism of the skeletal saint during a speech to Mexican bishops. Francis said he was "particularly concerned about those many persons who, seduced by the empty power of the world, praise illusions and embrace their macabre symbols to commemorate death in exchange for money."
He urged religious leaders "not to underestimate the moral and antisocial challenge which the drug trade represents for Mexican society as a whole, as well as for the Church."
I mentioned Santa Muerte in another story right before the pope's visit. After a prison riot that left 49 inmates dead in the northern city of Monterrey, the authorities confiscated a slew of contraband from the cells -- air conditioners, huge televisions, aquariums, portable saunas... And what else? None other than hundreds of figures of Santa Muerte. Hundreds. What did they pray for? Freedom? Death to an enemy? Love? Health? Repentance? Who knows. But I had learned my lesson.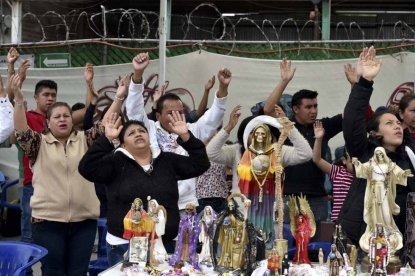 Devotees pray in front of Santa Muerte figures. Tultitlan, February, 2016. (AFP / Yuri Cortez)
This time, I wrote: "Authorities also found hundreds of figures of Santa Muerte, a Grim Reaper-like "Death Saint" worshiped by criminals but also millions of ordinary Mexicans."
That should get me at least a passing grade in "Santa Muerte 101."
Laurent Thomet is an AFP journalist based in Mexico City. Follow him on Twitter.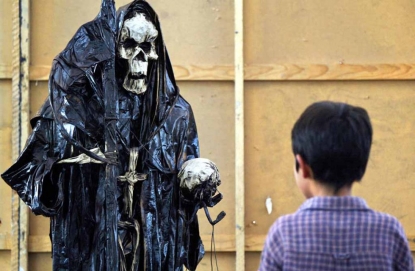 A boy looks at a Santa Muerte image in Mexico City. October, 2003. (AFP / Jorge Uzon)