As long as it takes
GUANTANAMO BAY NAVAL BASE, Cuba, January 27, 2016 -- I'm sitting in the public gallery of one of the world's least accessible courtrooms, watching through a triple-paned, soundproof window as the five, thick-bearded detainees chat amiably with their lawyers before yet another pretrial hearing.
It's been eight years since the United States first charged them with plotting the September 11, 2001 attacks and killing nearly 3,000 people. If it isn't already, this case will soon become the longest prosecution in US history. When the military judge calls the court to order, I begin to see why.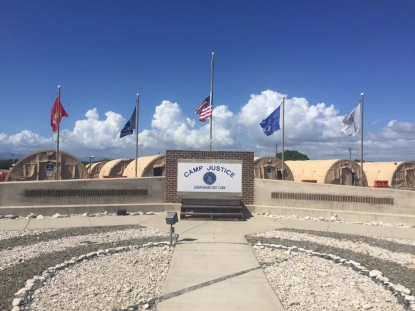 Guantanamo, December, 2015. (AFP / Thomas Watkins)
Instead of addressing the horror of 9/11, the entire day's testimony -- and most of the following day's -- is again dedicated to an issue that already has bogged proceedings down for more than a year.
In the courtroom, the defendants' attorneys are arguing that as strict Muslims, it is culturally inappropriate for female prison guards to escort them to and from the courthouse. 
The alleged mastermind, Khalid Sheikh Mohammed, whose enormous beard is dyed bright orange and who wears a military jacket and an Arabic head scarf, contends that even seeing female guards makes him flash back to the torture and sexual humiliation meted out by the Central Intelligence Agency after he was captured in Pakistan in 2003 and sent to secret prisons.
I'm watching with several other journalists and a group of eight relatives of victims of 9/11. Very few people will ever see these proceedings, playing out at glacial speed on this remote military base carved from the southeastern tip of Cuba.
Though we can see the courtroom, we only hear the testimony after a 40-second delay. This is to allow the judge, as well as the CIA and other government watchers, time to cut the feed in the event any classified information is uttered.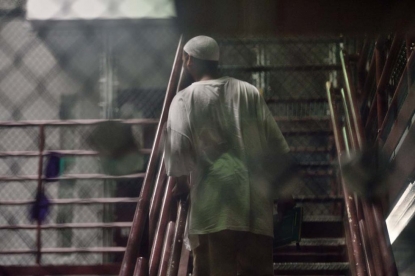 Unidentified detainee at Guantanamo. April, 2014. Photo made during an escorted visit and approved by the US military. (AFP / Mladen Antonov)
During a short break for the defendants to pray, a human rights activist sitting behind me leans forward and points to a cushion that one defendant, Mustapha al-Hawsawi, always sits on. She says, matter of factly, that he needs the padding because he suffered massive damage to his rectum during aggressive CIA body searches -- and has been denied surgery to fix it.
I do a double-take, finding such an assertion unlikely. But it's already been discussed in open court, and is described in an infamous report by the US Senate Intelligence Committee.
In my 15 years as a journalist, I've attended countless hours of criminal and military court proceedings. But I've never heard anything like this: References to government torture and wrongdoing that go unchallenged by either the judge or the prosecutors.
Later that night as I struggle to sleep in a frigid, overly air-conditioned military tent erected on an old runway by the courthouse, my mind returns to that innocuous white cushion. It seems an apt illustration of why this case -- the most important terrorism prosecution in US history -- is taking so long.
The razor wire-topped fence at the abandoned "Camp X-Ray" detention facility at Guantanamo. Photo made during an escorted visit and approved by the US military. (AFP/Mladen Antonov)
Underpinning everything here is the CIA's handling of these and other prisoners in the years following 9/11. Some of the evidence came through "enhanced interrogation techniques." Agents had an array of measures at their disposal including waterboarding, chronic sleep deprivation and force-feeding -- either orally or anally.
In the years since the "9/11 Five" were first charged in 2008, the taint of torture and of alleged wrongdoing -- including claims the government spied on defense teams -- have soured proceedings.
Such conduct would likely have seen the case tossed from a federal court, an unthinkable outcome for the United States in such a high-profile prosecution. So the government, frantic to ensure the military court's legitimacy, is now indulging just about every major defense motion, more than 200 of which have been filed.
Years before case reaches trial
After one court session during this December week of testimony, I meet Hawsawi's defense attorney, Walter Ruiz. He tells me the case won't reach trial until 2020 at the earliest. 
Even prosecutors, who are more optimistic about the pace, say their discovery documents won't all be ready until September. Ruiz predicts these papers will generate more defense motions, triggering a lengthy cycle of litigation that potentially could draw things out by another 10 years.
Our conversation spans a range of topics, including what it is like to be working for such notorious defendants. After we talk, he hands me his business card.
"Injustice anywhere is a threat everywhere," it says on the back, an echo of a quote by Martin Luther King Jr. who once said "Injustice anywhere is a threat to justice everywhere."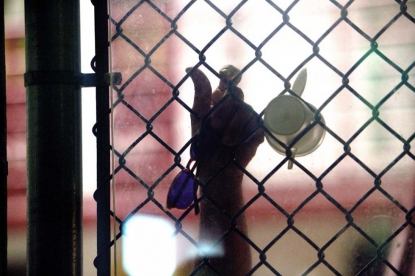 Hand of a detainee at Guantanamo. Photo made during an escorted visit and approved by the US military. (AFP / Mladen Antonov)
The 'forever' trial
Unlike in a regular case, where the defendants are brought to court, here the opposite is true. Every month or so, the judge, prosecutors, court staff and defense attorneys board a chartered plane from an Air Force base outside Washington and make the three-hour flight down to this Caribbean military outpost.
Of the 91 men still in Guantanamo, about half are still being held without charge but have no prospect of ever being released. The media have dubbed these inmates the "forever prisoners." I wonder if this is becoming the "forever trial."
I meet the chief prosecutor in the case, Brigadier General Mark Martins. He won't be drawn into a discussion on how long it will take.
"The standard is the law and the rule of law. We'll be here as long as it takes. No one is going to lose interest in these cases," Martins says.
He's right -- we're talking 9/11, after all. But America and the world are changing. We think less about the Al-Qaeda bogeyman and more about Islamic State jihadists wreaking havoc around the world. The "war on terror" has itself evolved -- the United States is less inclined to even take prisoners, preferring instead to kill suspects via Predator drone.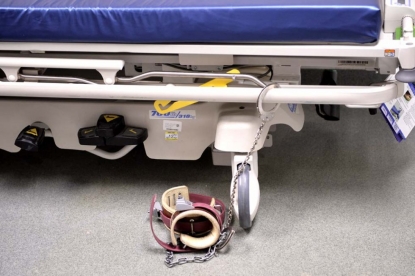 Medical center at Guantanamo. April, 2014. Photo made during an escorted visit and approved by the US military. (AFP / Mladen Antonov)
I look at a group of sailors who are on duty guarding the main courtroom perimeter. They would have only been about four or five years old when the planes were hijacked.
Three of them are chatting idly, sheltered from the blazing Cuban sun by a canvas shade. They don't appear particularly interested in the historic events unfolding a few yards away; they actually seem rather bored.
"You lose track of days here," one says to his friends as he leans against a wall. "You don't know what day it is. You just know if you're working, or if you're off."
Larry the iguana
Guantanamo Bay is a weird place. The population of about 5,000 is mostly military, but large numbers of imported workers come from Jamaica and the Philippines. During my week here, I didn't hear a single word of Spanish. The base is on Cuba, though separated entirely by razor-wire fencing, landmines and massive cactuses.
Before we are allowed to come, we have to sign 13 pages of ground rules specifying what we can and can't do. We aren't allowed to take photos, except in pre-ordained places or with the approval of our military minders. All the pictures taken on site are vetted, including the one below of the iguana, one of many such creatures wandering around the base looking for scraps to eat. The soldiers here have named him Larry.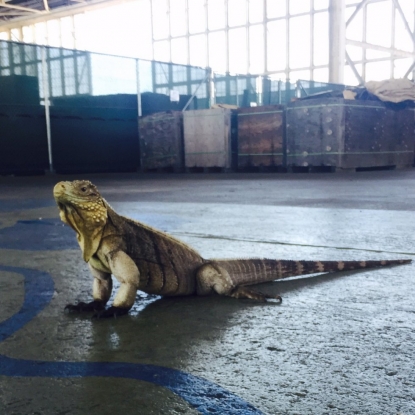 Larry the iguana. (AFP / Thomas Watkins)
At the end of the week's court proceedings, the victim relatives who have come down hold a press conference. Their pain is still raw and palpable and they sound defiant, exhausted and frustrated in equal measure. Some cry, others, their political beliefs at polar opposites, snap at each other. They all want resolution, but they don't want to see America rush justice.
I just "wanted to see the bastards," one of them, Alfred Bucca, says. He lost his brother Ronald, who was a fire marshal and died as the south tower collapsed.
Another pretrial hearing is set for next month.
Thomas Watkins is AFP's Pentagon correspondent based in Washington. Follow him on Twitter.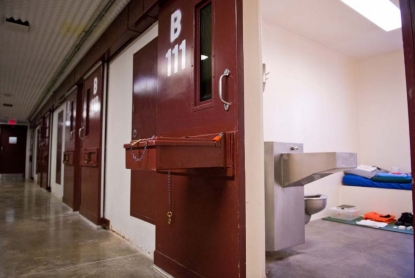 Corridor and cell in Guantanamo. April, 2014. Photo made during an escorted visit and approved by the US military. (AFP / Mladen Antonov)