Iran nuclear talks: the day the story died
Vienna, January 22, 2016 -- When it finally came late on a Saturday night, the announcement was momentous: the Iran nuclear deal had entered into force.
The UN atomic watchdog announced that yes, Iran really had curbed its nuclear programme. Sanctions were lifted and after 13 years, a dangerous standoff was over.
But for me, who has covered the ins and outs of the story for nearly five years, this was also a moment tinged with sadness -- the twisting, fascinating and often infuriating saga was finally over. Well, probably.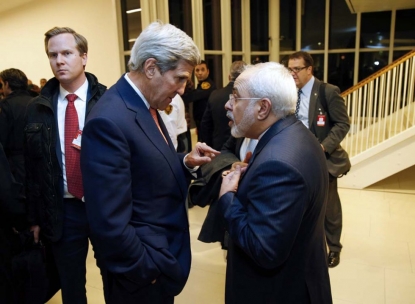 John Kerry and Mohammad Javad Zarif in Vienna. January 16, 2016. (AFP / POOL / Kevin Lamarque)
Page-turner
The epic story was about so much more than stopping Iran getting nuclear weapons -- something which Tehran always denied.
It was about ties between the "Great Satan" United States and "axis of evil" Iran, it was about ordinary people in Iran, with its young population, wanting a better life.
It was about the struggle of different factions in the Islamic republic, about the shifting sands of power in the Middle East and the West's -- and Russia's and China's -- role there. And it was about oil.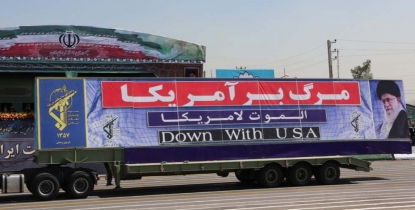 Tehran's annual military parade marking the start of Iran's 1980-1988 war with Iraq. (AFP / Atta Kenare)
Arriving in Vienna for AFP in 2011, the epic was already several chapters in, its previous pages dating back to 2002 and a depressing read.
Nine years in, there was no end in sight. Sanctions were piling up and Iran was defiantly expanding its activities, inching ever closer -- in theory -- to getting an atomic bomb.
Efforts to halt the global spread of nuclear weapons were in peril, Iran's neighbours were getting nervous and the drums of war were beginning to beat.
But when Hassan Rouhani became president in June 2013, promising improved relations with the outside world, everything suddenly changed.
With him and the US-educated new Foreign Minister Mohammad Javad Zarif, there seemed to be a real willingness to put the nuclear standoff to bed.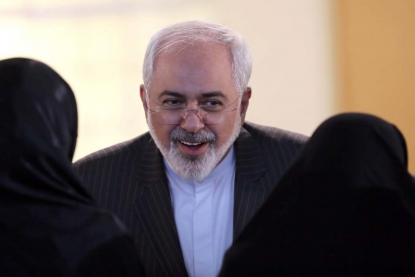 Mohammad Javad Zarif in Tehran. January 17, 2016. (AFP / Atta Kenare)
The waiting game
And here the fun really began. If that's what you can call the sleepless nights, stress and excruciating boredom of waiting, and waiting, and waiting through hours, and hours, and hours of talks that journalists covering the diplomatic sparring had to endure.
Over two years, the nuclear talks' travelling circus of diplomats, technical experts, analysts, press flacks and journalists would set up tent many times in many places.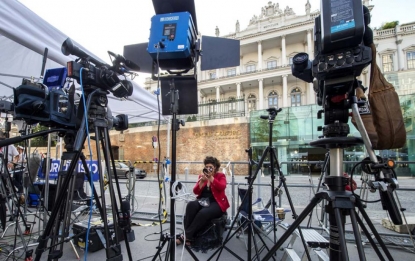 Setting up camp outside the Palais Coburg Hotel in Vienna. July, 2015. (AFP / Joe Klamar)
The first breakthrough was in Geneva in the early hours of November 24, 2013. But not a full deal, no no, this was an interim agreement to buy time and build confidence. The band of bleary-eyed journalists knew this was just the start.
Turning this into a final accord turned out to be hard work, with negotiators over countless meetings missing two deadlines, in July and November 2014. It was beginning to feel like Groundhog Day. Editors were losing interest -- and everyone else the will to live.
But then, in April 2015, perhaps helped by some Swiss spring air, came two rounds in Lausanne, culminating on April 2 with the main outlines of the final deal. This really was progress.
Now all they had to do, by June 30, was work out the details. But this turned out to be the worst bit, working out the technical nuts and bolts of how it would work.
The deal was finally done and dusted on July 14, 2015 in Vienna -- but only after an 18-day diplomatic marathon. Iranians celebrated and a historic breakthrough was hailed.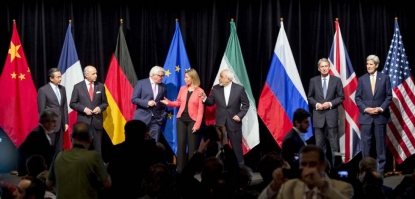 The press conference after Iran nuclear talks in Vienna on July 14, 2015. (AFP / Joe Klamar)
Six months on, it has all fallen into place -- although with a sting in the tail with a 13-hour wait for the IAEA announcement -- and the merry circus has disbanded.
It was a story of different personalities: from John Kerry (on crutches in July) to Zarif, from France's mischievous negotiator Nicolas de Riviere to China's Wang Qun and his "arsenal" of bow ties.
"The IAEA is more than welcome to come and inspect them," Wang quipped in Lausanne.
Among the hundreds of journalists, including a large and friendly contingent from Iran who ordered food from the local Persian restaurant, friendships were forged over the countless coffees, Mozart Balls and cigarettes. There were emotional farewells for those forced to leave.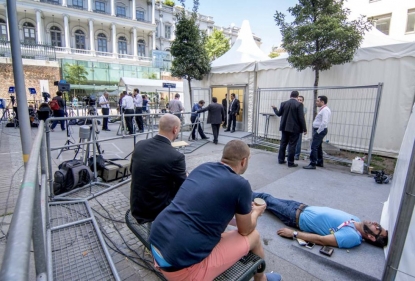 Journalists outside the Palais Coburg Hotel. July, 2015. (AFP / Joe Klamar)
What's yet another word for deadlock?
And there were the places.
In Geneva it was the 1960s Intercontinental where journalists had to camp out in the lobby, at one point sharing the space with a party that had hired a country band memorably singing Johnny Cash's "Ring of Fire". In Lausanne, the splendid 19h-century Beau Rivage was the location -- the delegates walking the corridors where Victor Hugo, Marilyn Monroe and Zaire's dictator Mobutu Sese Seko once walked.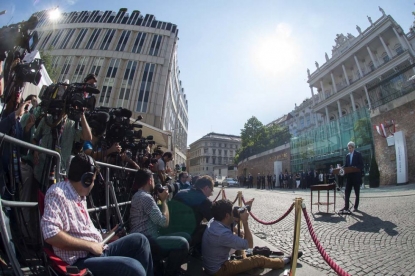 John Kerry outside the Palais Coburg Hotel in Vienna. July, 2015. (AFP / Joe Klamar)
Splendid for the delegates, anyway. For the second, decisive round, journalists were penned into three rooms, unfed, unwatered and uncaffeinated for six days. One dubbed it the "Lausanne hostage crisis".
And in Vienna it was the Palais Coburg, the neo-classical former palace nicknamed the "Asparagus Castle" by locals and home to a wine cellar containing 60,000 bottles from four centuries -- and with no mobile phone coverage.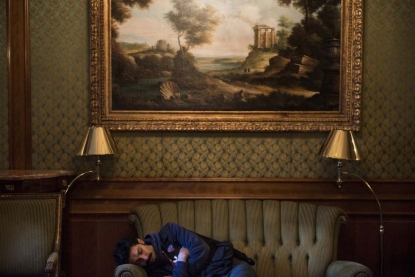 The Beau Rivage Palace Hotel in Lausanne, Switzerland. April 1, 2015. (AFP / POOL / Brendan Smialowski)
Information was thin on the ground, with Kerry repeating endlessly "we are hopeful" and Zarif shouting cryptic messages from his balcony, requiring reporters to dig deep to find different ways to describe deadlock.
The never-ending wedding
Reporters with no prior knowledge, or indeed interest, soon came to learn what a uranium centrifuge does (increases a proportion of a fissile isotope), and what a Separative Work Unit (a unit measuring centrifuge efficiency) and a "snapback" (a mechanism to reapply sanctions) are. 
The press would hang out in the adjacent Marriott, local beer gardens or in an air-conditioned large marquee generously provided by the Austrians. It was a bit like a never-ending wedding.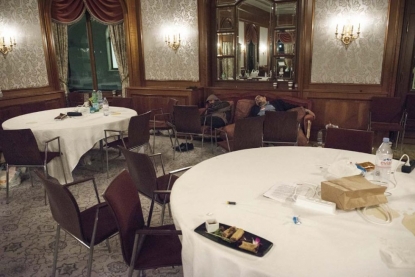 The Beau Rivage Palace Hotel in Lausanne, Switzerland. April 2, 2015. (AFP / POOL / Brendan Smialowski)
Vienna, which hosted the majority of the talks, started to grate for some though.
Chief US negotiator Wendy Sherman suffered a twisted ankle, a broken nose, "and a ruptured pinkie finger". She talked wearily of her "hotel buffet that specialises in turkey schnitzel."
And the locals were bemused. "Who are you waiting for?" said one passerby, seeing all the cameras. "John Kerry", we said. "Cool! The actor?"
Covering the IAEA and its inspection work in Iran will continue, but basically the excitement is over. 
Unless, of course, the whole deal falls apart. Which -- as those of us who've covered the ins and outs know -- is not entirely impossible.
Simon Sturdee is an AFP correspondent based in Vienna. Follow him on Twitter.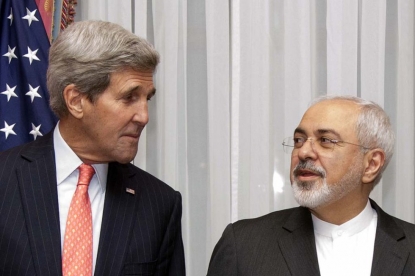 John Kerry and Mohammad Javad Zarif in Lausanne. March 16, 2015. (AFP / POOL / Brian Snyder)