Gunfight in the heart of Jakarta
Jakarta, January 15, 2016 – I was reaching for my coffee when I heard the thump. It didn't sound like a blast. More like a heavy metal part falling to the ground. I thought it was a crash between cars, or something falling from the roof. So I left the coffee on the counter and ran outside.
That morning started out very quietly. I went to the office to file some baby orangutan pictures. After I finished filing, I went out to the café in the neighborhood that we like. I was about to pay for the coffee when I heard the sound.
At first I didn't think it was too big of a deal. But then I saw police rushing by and managed to ask them what was going on. They said it was a bomb blast. So I grabbed my camera and we went to the site. We rode on a motorcycle – AFP has motorcycle drivers for the photographers here so that we can get places quickly and with free hands  – and rode against the traffic toward the wailing police sirens, dodging oncoming cars as we sped by.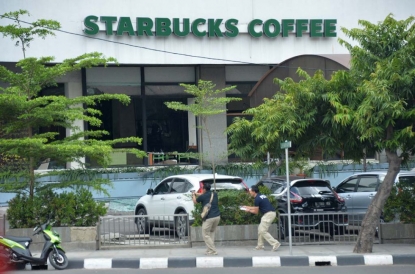 Police move toward the suspects. (AFP / Bay Ismoyo)
I've covered wars in my 22 years as a photographer and as we were riding, I thought that it would be like a usual bomb blast, not much left and the 'action' over.
But when we got there, I quickly saw that this was not a usual bomb blast. The police and the suspects were shooting at each other, in the middle of the street.
So I quickly put myself into a safe zone – away from the direct line of fire – and started shooting myself with my camera. I also quickly called the office to update them on what was happening.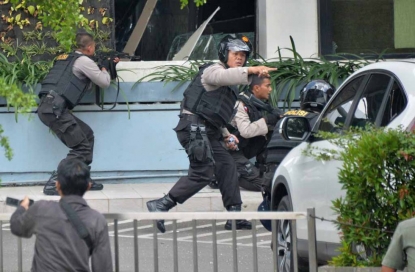 Police take up positions. (AFP / Bay Ismoyo)
My first priority was to remain safe so that I could work. I put myself in the direction of the gunfight, but to the left of the line of fire so that the bullets wouldn't be coming directly at me. I saw that the effects from the blasts didn't reach that far, so I could get a bit closer.
I saw bodies lying on the ground and the police chasing the suspects, who were hiding in between vehicles parked in front of the Starbucks. I saw police raid the Starbucks. Near me there was a plainclothes police officer who was hit in his leg by shrapnel or bullet.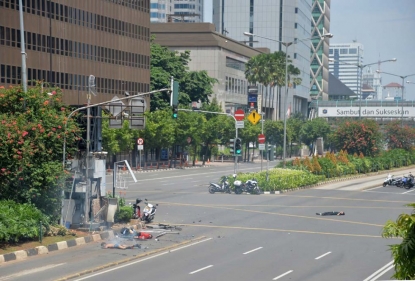 Bodies lie in the street following the blasts. (AFP / Bay Ismoyo)
The police were constantly moving, so I had to move as well. Mostly I was moving behind them, sometimes a bit to their right.
To be honest, I wasn't really scared at the time, in that type of situation your mind goes into a mode where all you're thinking about is being safe and getting the good shot. I am also lucky in that I usually don't have a problem with the police – as usual I had my military boots on that day and I am big for an Indonesian, so the police often think that I am one of them and don't really pay attention to me. So I was able to keep following them.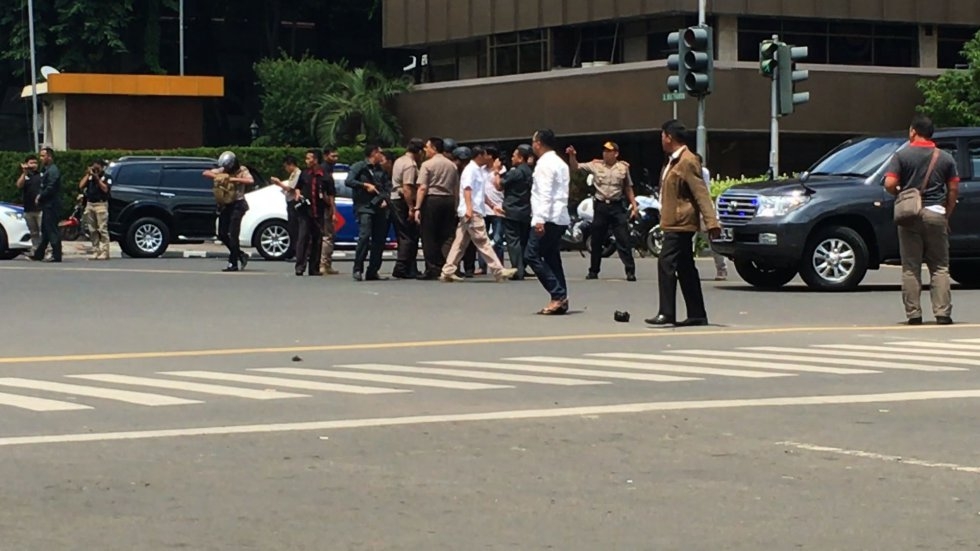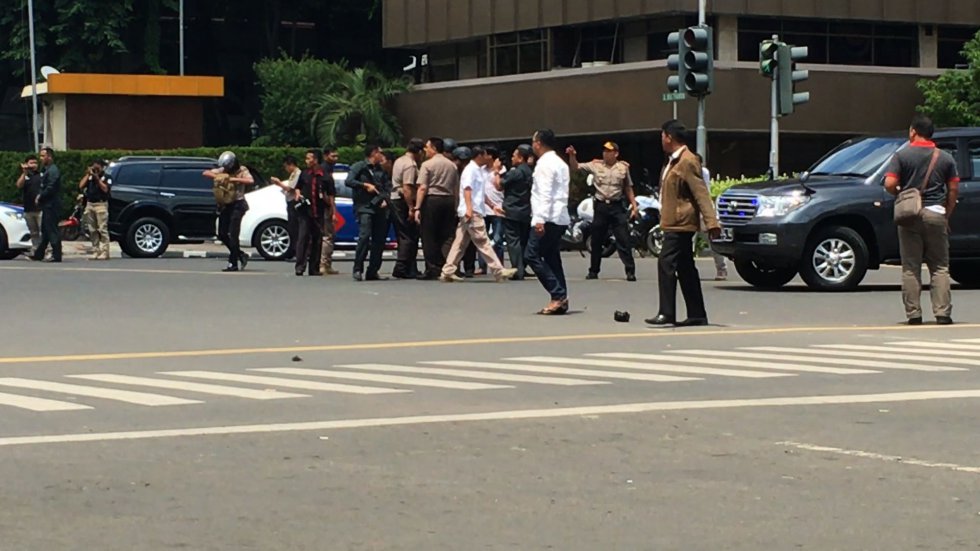 Click here to watch on mobile device.
I kept moving with the police, but when we got close enough to see the victims, there were reinforcements that came and the police blocked us from getting too close. Meanwhile Hong Kong had called me, asking me to file my early pictures. I saw that Romy (Romeo Gacad, chief photographer in Indonesia) had arrived, so I asked him if he minded if I went to file the early pictures and he told me to go. So I went back to the office.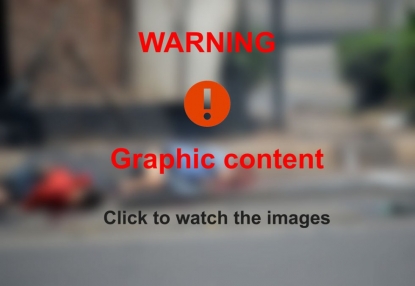 (AFP)
As a photographer, I'm used to seeing this type of thing – I was once in an hours-long battle in Afghanistan -- but I have to confess that I'm still shocked to have seen this. It's the first time that I see a gunfight between police and terrorists right in front of me like this, so close. Two civilians, along with the five attackers, were killed. In downtown! It's the heart of my city, very close to the palace, to the embassies. It shakes you up.
I don't want to say that I wasn't scared because that sounds pompous but to be honest, if you know what is happening, it's not that difficult to know how to behave. I knew there was a gunfight going on, so throughout I made sure that I was never in the direct line of fire and I always made sure that I was protected – first with a wall, then a tree, then a car, so that I was safe.
I have to say that I wasn't very happy with the pictures that I took. I think I got there a little too late. If I had gotten there just a little bit earlier, I would have gotten all of them. But that's how it goes.
After I finished filing at the office, I was waiting for the motorcycle to come and pick me up and take me back to the site.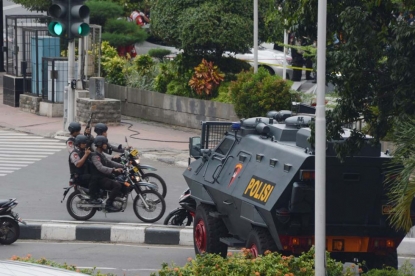 Police outside Starbucks. (AFP/Romeo Gacad)
I knew it would take a few minutes, so I went back to the coffee shop. My coffee was still sitting there on the table, but it was cold and I didn't want it anymore. So I just paid the 20 cents for it. The employees weren't surprised when I ran out in the first place, they realized what was going on, but they were a bit surprised that I paid for a coffee that I didn't drink.
I never did get a coffee for the rest of the day. When I went back to the blast site, I saw another coffee shop there, I tried to get a cup, but it was closed.
When I got home that night, the first thing I asked for was a coffee. It was super late, but I didn't care. I'd earned it.
Bay Ismoyo is an AFP photographer based in Jakarta. Follow him on Twitter and Instagram. This blog was written with Yana Dlugy in Paris.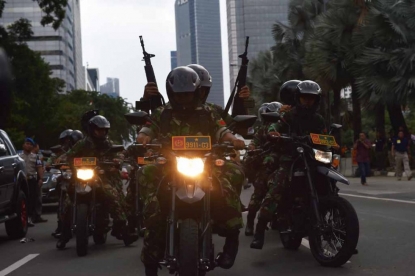 The military patrols the area the day after. (AFP / Bay Ismoyo)