On El Chapo's trail
An image of "La Santa Muerte," a 'divinity' worshiped by Mexican criminals, lies in shattered glass at the El Aguila ranch. (AFP / Ronaldo Schemidt)
TAMAZULA, Mexico, October 28, 2015 -- The sun has been beating down on our Jeep for hours. With our windows down, we listen for any sound that doesn't match the seemingly peaceful landscape of the Golden Triangle, the northwest Mexico mountain region where many drug lords were born and narcotics are grown. For more than three hours, we have navigated through mud, steep slopes and huge potholes.
We came to this remote and bleak region in the state of Durango because locals had told us that military helicopters had fired on homes and cars on October 6 in their hunt for Mexico's most wanted fugitive, the powerful drug lord Joaquin "El Chapo" Guzman, who embarrassed President Enrique Pena Nieto's administration when he escaped from a maximum security prison through a tunnel under his cell shower on July 11. The authorities confirmed the raid against Guzman, but they denied attacking the civilian population.
By the time we arrive in the area, more than 10 days had gone by since the operation. Some 600 people fled their homes and took refuge in Cosala, the nearest city in neighboring state of Sinaloa. It was there that we saw a dozen families receiving aid from the local authorities. They shared a similar story -- that they fled a "rain of bullets" from marine helicopters. The terrified villagers tell us that they don't want to go back home for now, but that they worry for their cattle, their ranches and all that they left behind.
The next day, we look for someone in Cosala who wants to venture with us up the mountain in order to guide us and help us verify what happened to the abandoned ranches. After a few hours, Felipe offers his services. He wants to see his cousin's ranch and he knows the mountain, where he was born. We paint "PRENSA TV" (TV PRESS) on our Jeep's windows, buy drinking water and place our bulletproof vests within hand's reach. We are set for the rough ride up ahead.
The entrance to the town of Cosala in Mexico's Sinaloa State, where many civilians fled after military raids in the mountains aimed at recapturing "El Chapo." (AFP/Ronaldo Schemidt)
Cellphone service is patchy, so any time we get a signal, we send our GPS position to our Mexico City bureau. The more we climb, the less accurate our map gets. Inside the car, tension mounts. We don't see anybody during our rocky climb except for one pick-up truck parked on the side of the road. We are alone in the Sierra Madre Occidental mountain, without a mobile network, in a region where the authorities have been intensely hunting for the head of the Sinaloa drug cartel.
After a three-hour drive, we reach the wood and barbed wire fence of a ranch that allegedly came under fire from government forces. There's a small house, a pick-up truck, a cattle yard and some storage spaces. The vehicle's windshield has multiple cracks from bullets. Glass is strewn on the ground, next to a card bearing the image of Santa Muerte, the skeleton Saint of Death rejected by the Catholic Church but venerated by a growing number of people in Mexico, notably criminals. Light pierces through several holes in the roof of the house, shining into the bedroom that the owners had to flee the week before.
Bullet holes riddle the front shield of a truck at the El Aguila ranch. (AFP / Ronaldo Schemidt)
We continue our vertiginous trip up to the El Limon ranch, which witnesses say was the worst hit during the marines' raid. On our way there, we briefly stop at the Comedero Colorado ranch. We had interviewed its owners the day before. Ines and Gonzalo had told us how they scurried to the forest while under fire. They walked for four days without food or water with their toddler before reaching Cosala. They told us their pick-up was reduced to burned metal. We find the torched vehicle at the entrance of their residence. We can still smell the smoke. Small bullet holes struck the vehicle, which also had 10-centimeter (four-inch) wide holes.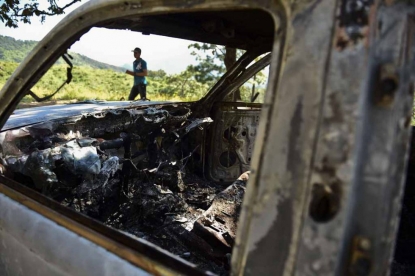 A burned out truck at the Comedero Colorado ranch. (AFP / Ronaldo Schemidt)
We don't stick around as we only have a few hours of daylight left to reach El Limon and return to Cosala before nightfall. We puncture one of our tires, but the tires are solid, the hole is slight and we should be able to drive back without having to stop in such a dangerous area to change it.
On our way to El Limon, the road is blocked by three tree trunks and tire shredders. Some 100 meters up the road, nervous troops shout at us: "Who are you? Come out of the car!"
The roadblocks put up by the military at the entrance to the El Limon ranch. (AFP / Ronaldo Schemidt)
Our photographer Ronaldo Schemidt gets out with his ID raised in his hand, shouting "Prensa! Prensa!" ("Press ! Press!") . "We are two men, two women from the press! We're coming out of the vehicle!" The rest of us get out. We see that one of the marines has pointed his weapon at us.
We can understand the reaction of troops, who are looking for the most powerful -- and well-armed-- drug traffickers in the world in an isolated mountain region. We are nevertheless a little worried.
For two days, we have heard witnesses tell us how the marines had shot at the population, and we have seen dozens of bullet holes in homes and cars in the area. We're not really in mortal danger, but in this type of situation, when a soldier has his finger on the trigger, any word or gesture can either calm him or be interpreted as a provocation.
We hold our hands up for several minutes. This could be a scene out of an action movie: On one side of the road spikes, three journalists and their fixer with their hands up, on the other, three marines holding assault rifles. The negotiations begin.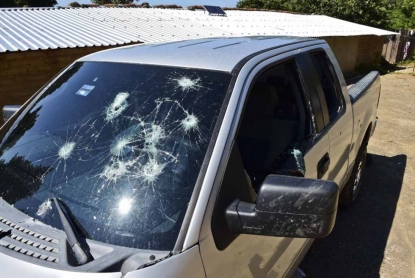 A truck damaged by gunfire at the El Aguila ranch. (AFP / Ronaldo Schemidt)
"One moves forward with ID in hand," a marine says. They check our papers and search the vehicle. A masked officer arrives carrying a small video camera. "We can't share any information," he says. "This location is under the authority of the Mexican navy." I have my own camera on my shoulder, but it's turned off. Ronaldo answers: "If you're going to film us, we will film you, too."
Officer Alegria turns off his camera. He has nothing to say, even off camera. He does claim that we are not at El Limon, but another location named El Durazno. "Your guide can confirm that. This is a different ranch." Felipe says nothing (he tells us later that we were indeed on the road to El Limon, but he didn't dare contradict the officer). While the officer leaves to consult his superiors, we take out our satellite Internet modem to send an email to our office and give our colleagues in Mexico City our position. Since there's no cellphone network connection in the area, the move is also intended to show the marines that we are not totally alone out there.
Notices published in newspapers offer 60 million Mexican pesos (approximately 3.8 million dollars) to anyone who can provide information leading to the recapture of "El Chapo." (AFP / Yuri Cortez)
After speaking with their commanders, the marines come back and officer Alegria has his camera in his hand. "I have to film myself telling you that access is denied," he explains. With my camera on my shoulder, I tell him my job is to get an official statement. "If you have to film us, I will also have to film you. This way, everybody is satisfied. You get proof that you did your job, and I get an official statement from the authorities." Once again, Alegria lowers his camera. "Let's leave it at that. It's better this way. »
We have no choice but to turn around. Our blown tire increasingly shows signs of fatigue, but there's no way we're stopping. Every minute of daylight counts. Three hours later, we make it to Cosala before sunset. Back at our hotel in this pretty city, with our bodies hurting from the bumpy ride, we send our stories and pictures, relieved that we returned to our local base without a hitch. We don't think at all that we got a scoop. We may be the only international news outlet on the ground at the moment, but the military raid had taken place a week earlier – an eternity for a news agency. Local journalists probably got here well before us.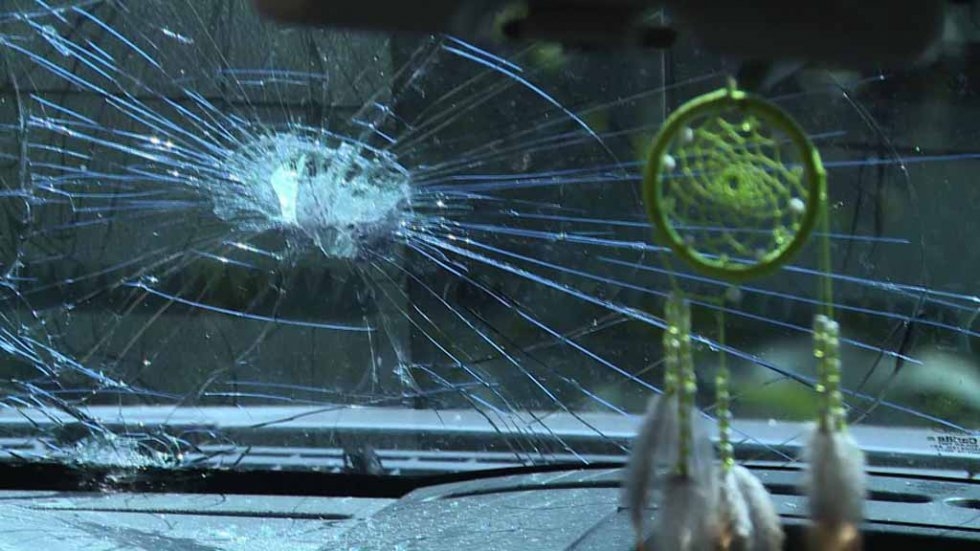 Click here to watch on mobile device
We couldn't imagine the impact that our story would have the next day in Mexican and international media. It's only the next day that we learn that we were the only journalists to have reached that remote part of the mountain, with the only visual proof of the suspected marine shootings of civilian ranches.  We were the only ones, or at least the first, to come face-to-face with the marines and get close to El Limon, though we were unable to break the mystery around this ranch blocked by troops.
The mountains in Mexico's Durango State, where the military carried out an operation aimed at recapturing fugitive drug kingpin "El Chapo." (AFP/Ronaldo Schemidt)
El Chapo remains on the lam. The mountains remain under military surveillance. And the local residents have yet to return home. We returned to Mexico City with a scoop but with more questions than answers. What's going on in El Limon? Where's Guzman hiding? What's this secret that the navy is guarding so jealously deep in the Durango mountains?
We hope to get the answers, but they'll have to wait for another time.
Daphne Lemelin is an AFP video journalist based in Mexico. Follow her on Twitter @daf_lemelin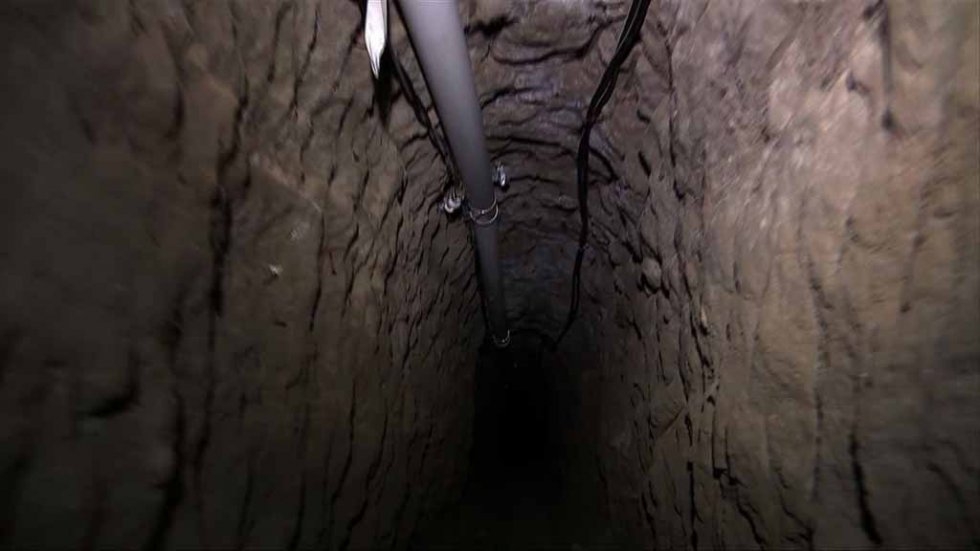 Click here to watch on mobile device