Covering high tech 101
Memo
INTERNAL USE ONLY
Hi all,
Herewith some helpful hints for those covering a high tech fair, like the IFA extravaganza that showcases consumer electronics every year in Berlin.
I have jotted these down having covered hectares of neon-illuminated alleys with hundreds of futuristic stands featuring the latest gadgets, having climbed over scores of tangled electronic cables, and having rubbed elbows with that strange brand of journalists specializing in "geekdom."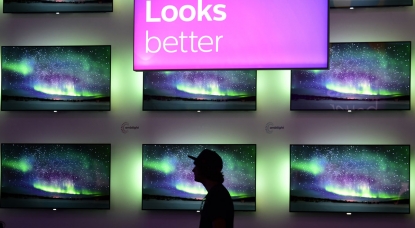 (AFP / Tobias Schwarz)
Things NOT to do: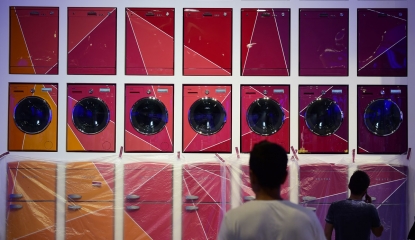 (AFP / Tobias Schwarz)
-- go to a virtual reality stand after a meal, even if it's a small breakfast one. The 15-minute simulation of a bobsleigh ride doesn't go down well after muesli.
-- ask for a 'Samsung cable' to charge your telephone inside the press room. This provokes incredulous stares from colleagues. Here, you ask for a "male USB cable" or a "mini USB" and not knowing such basics puts you at risk of losing your accreditation.
-- tell your journalist colleagues specialized in high tech that your favorite gadgets are washing machines. Even if they have wifi.
-- brag about your brand new cell phone given to you by AFP. "Aaaah, the 7 of 2016, brings back such fond memories," says a techie fellow journo, all but carbon dating what to me is the latest technology out there. Ditto for the agency's laptop -- the only way not to look ridiculous being caught with such an ancient monstrosity is to say that you used it in Iraq.
-- Tweet, live-tweet, live-feed, Facetime or Instagram the latest announcements by the big manufacturers every two minutes. If you take notes in a -- gasp -- notebook, do so discreetly.
-- ask what the difference is between "virtual reality" and "augmented reality." Ditto for "mixed reality."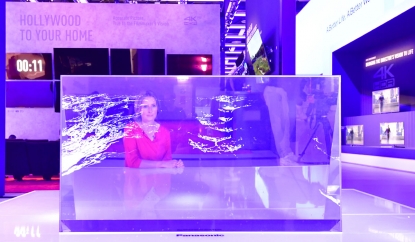 (AFP / Tobias Schwarz)
-- put on footwear other than sneakers -- even without the aid of a smartwatch, a fitness tracker or God knows what else, my feet know full well that they have covered at least 60 kilometers in four days. Berlin's exposition center is huge. Better yet, borrow your kid's scooter. If it happens to have Star Wars stickers, you're in luck -- that could make you some friends in the press room.
-- ask the pimply teenagers hanging around in the press room how their internship is going. (They're "YouTubers" and they make more in a month than I do in a year).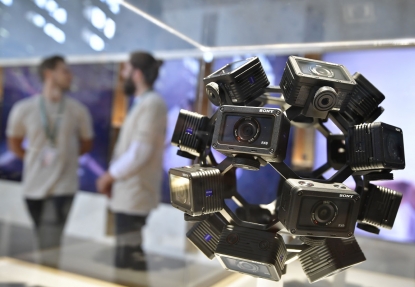 (AFP / Tobias Schwarz)
Things TO do:
-- Feign enthusiasm when offered an interview with the boss of a large company, knowing full well that he will take up the time to promote the firm's latest gadgets and you won't be able to use anything he says and will in effect waste 30 precious minutes for nothing. But it's difficult to tell a public relations person "Thanks, but I don't care."
-- have a "technical" question ready for such interviews. My favorite: "And where are going in design? Toward Borderless?"
-- have sunscreen with you. My female journalist colleagues from Asia piled it on generously in the bathroom, even though we spent our days under artificial neon lighting. I'm still not really sure why, but better safe than sorry…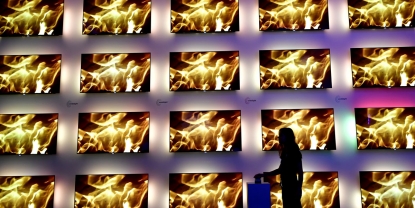 (AFP / Tobias Schwarz)
-- go to an evening launch party organized by Samsung, where the company will unveil several of its latest wonders. You'll be well-fed and well-watered.
-- don't worry if you don't get invited to above party. You can have a fabulous dinner right in the aisles of the expo -- everything from smoothies to raclettes to grilled shrimp.
-- come at 7 o'clock in the morning to get a decent spot in the press center, which is meant to accommodate about 200 people when five times that are accredited.
-- tell the bureau chief that you are ready to cover the next expo in a year's time and promise yourself that you won't be that interested in washing machines the next time around.
Cheers, Daphne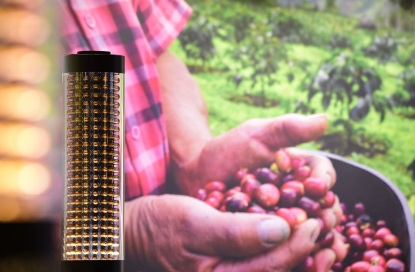 (AFP / Tobias Schwarz)