Capturing a human tide on camera
Clinching a spot on board a helicopter, watching world leaders march under tight security, or melting into the heart of the crowd, three AFP photographers share their experience of the historic January 11 unity march in Paris.
From the skies
PARIS, January 13, 2015 - On the eve of the Paris unity march held after the attacks on Charlie Hebdo and a kosher supermarket, AFP's chief editors are expecting the event to be gigantic, historic even. On top of pictures from the streets, we are desperately looking for ways to get aerial views of the human tide set to flood the capital. They are bound to be spectacular.
There is no question of using a drone, or chartering our own helicopter. It's all but impossible to get authorisation to overfly Paris at low altitude - and downright inconceivable at such short notice, in the midst of a terror alert, as world leaders converge on the city.
The only helicopters allowed to overfly Paris on January 11 are the gendarmerie and French civil security. Our only hope, explains AFP chief photo editor Eric Baradat, is to get on board one of their aircraft… Not an easy task.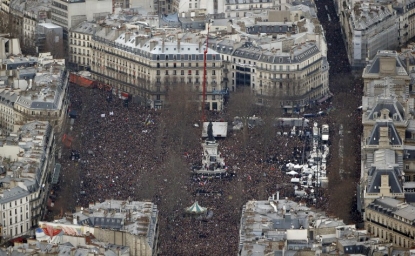 Paris' Place de la Republique during the unity march on January 11, 2015 (AFP Photo / Kenzo Tribouillard)
"First stroke of luck," says Baradat, "the deputy photo chief for France, Ludovic Marin, still has the phone number of a civil security chief he worked with in the past. Secondly, it turns out his contact is still in the same job. Thirdly, he says yes – on condition the Paris police department agrees. Fourth lucky strike: they are happy for us to come on board."
So here I am at the heliport in Issy-Les-Moulineaux outside Paris. Half an hour before the start of the march, we take off headed for the city centre. There are five of us on board: the pilot and mechanic, a police cameraman and technician and myself.
Aerial view of Paris on January 11, 2015 (AFP Photo / Kenzo Tribouillard)
Their job is to keep watch over the demo and the VIP gathering from the skies. Nothing obliges them to help me – but they do on several occasions open the door so I can get better shots than through the window.
They set two conditions : no open doors while we are overflying the VIP group, and nothing must protrude from the helicopter. I shoot my pictures above the Place de la Republique, the starting point of the march.
I am strapped in a harness, with two cameras also secured with straps – one with a 500 mm telephoto lens and the other with a 70-200 mm zoom for wider shots. I have removed my lens hoods – having lost one once before on a helicopter flight, whipped off by the wind.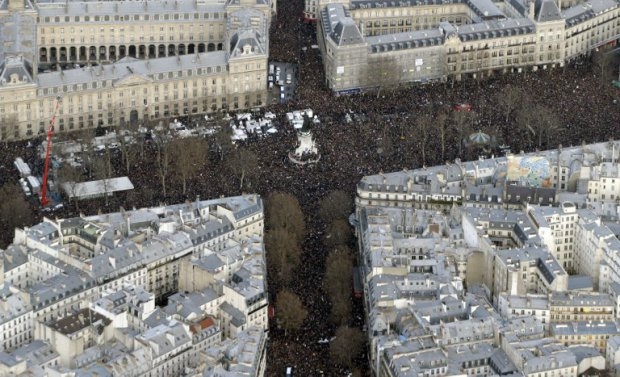 If you cannot play videoclick here.
It's my first ever flight over Paris. Seen from above the City of Lights must be pretty stunning under ordinary circumstances. With some 1.5 million demonstrators in the streets, the show quite simply takes my breath away. The capital's wide boulevards are dark with people, a human tide spreading out its tentacles for kilometres in all directions.
It's truly powerful – you can sense the colossal scale of the event. Even if the mid-afternoon light is not the best for taking pictures, I am still dazzled by what I've seen as we fly past the Eiffel Tower, back to the base.
In the heart of the crowd
By Joel Saget
A balloon reading 'Je suis Charlie' is held at Place de la Bastille in Paris on January 11, 2015 (AFP Photo / Joel Saget)
PARIS - My job as a photographer at Sunday's march was to melt into the giant crowd to try to seize the spontaneous side of things. In the heart of the massive throng, I could really capture all the details of what was a truly exceptional event, both in nature and in scale. And there was no lack of imagination among the demonstrators.
On the Place de la Bastille I came across a guy with a black balloon, marked with the now-famous "I am Charlie" slogan. A good picture, and a chance for a chat. He told me he had been all over town that morning, taking photos of his balloon against the backdrop of Paris monuments.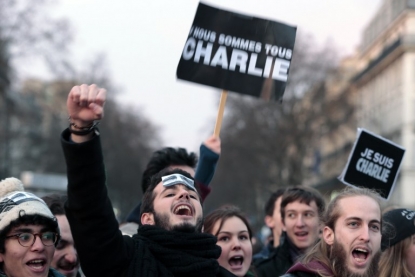 Marchers with a sign reading 'We are all Charlie' in Paris on January 11, 2015 (AFP Photo / Joel Saget)
I'd never covered an event like this before. In your typical march you find three clans: the demonstrators, police and media. When they're not insulting each other - or clashing outright - they keep each to their own, and treat one another with strong suspicion.
Sunday was completely different. There were loads of demonstrators warmly encouraging the police, shaking their hands and embracing them. Same towards the media: people were thanking us for taking pictures – thanking us journalists for the job we do. I'd never seen anything like it. Unbelievable.
On January 11 - just for once – everyone in France seemed to be rowing in the same direction. I felt like I was suddenly living in a different country.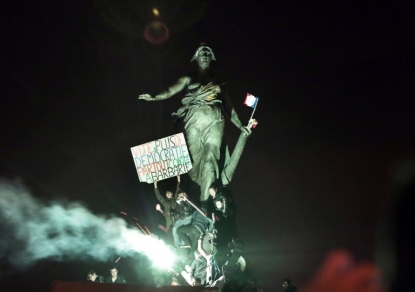 Demonstrators at Place de la Nation in Paris on January 11, 2015 (AFP Photo / Joel Saget)
At the end of the march, as night fell on the Place de la Nation, I took a picture that to my mind sums up the whole day. A group of young people were perched up on the central statue, "The Triumph of the Republic". At its foot there were people carrying an enormous cardboard pencil with the words "I am not afraid" "Free" written on either side. The youths were singing the French anthem, the Marseillaise, without anyone whistling in mockery – as so often happens here. They placed a French flag in the hand of this statue symbolising the Republic. Lit up by swirls of green smoke, it looked like she too was marching towards something new.
With the VIPs
By Eric Feferberg
World leaders join a unity march in Paris on January 11, 2015 (AFP Photo / Eric Feferberg)
PARIS - A dizzying number of heads of state and government, political and religious from across the board planned to be in Paris for Sunday's historic march – so it was naturally an important aspect of our photo coverage of the event.
It really is extraordinary to see Netanyahu march alongside Abbas, Sarkozy with Hollande, Poroshenko and Lavrov, unions and corporate bosses, bishops, rabbis and imams. AFP asked me to cover that side of things along with my colleague Patrick Kovarik.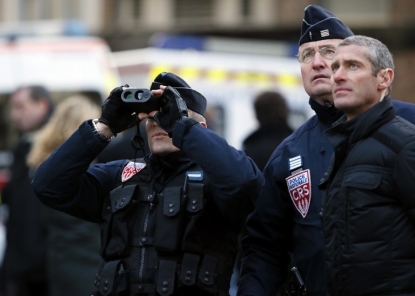 Riot police keep watch during the unity rally "in Paris on January 11, 2015 (AFP Photo / Patrick Kovarik)
The "VIP march" was first and foremost a logistical miracle. I've covered my fair share of international summits and I know just what a headache it can be for security, protocol and PR chiefs to coordinate the movements of that many high-profile figures, within a confined space. And that's when you're dealing with events planned months in advance – taking place inside ultra-secure perimeters. This was a street march improvised a few days earlier, in a city just hit by terrorist attacks. It was pretty bold!
You could feel the jitters in the air. A whole section of the Boulevard Voltaire where the politicians were marching was cordoned off. Metal shutters drawn on shops and police squads posted at the entrance to every building. The leaders were there, with bodyguards on alert. I spotted a fair few heads of state and government casting a glance up towards the surrounding roofs.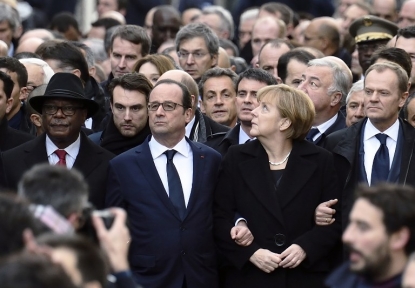 Leaders at the unity march in Paris on January 11, 2015 (AFP Photo / Eric Feferberg)
Their march was supposed to run from the Rue du Chemin Vert to the Place Leon Blum, outside the town hall of the 11th district. I positioned myself outside the town hall, along with other photographers, on a platform set up by the Elysee press centre, where we could capture the march snaking towards us with telephoto lenses.
But first I had to swing by the local ironmongers to buy a folding stepladder, after realising the stool I had brought along was too low if I wanted to get a view of what was happening in the middle of the march, not just the front row.
The cortege was split into three groups: in front the families and friends of the attack victims, behind them heads of state and government, together with other high-profile figures, and finally the political party chiefs, religious leaders, union bosses, former ministers and so on.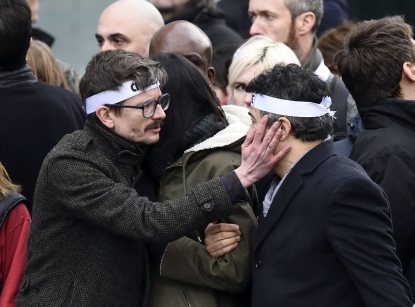 Charlie Hebdo cartoonist Luz (L) and editorialist Dr Patrick Pelloux in Paris on January 11, 2015 (AFP Photo / Eric Feferberg)
Of course it was a less warm and spontaneous affair than the popular march, but there was no getting around the need to organise things a little given the people involved. But even in this part of the march there were some touching moments. Amid the Charlie Hebdo staff present, the cartoonist Luz at one point reached out to touch the cheek of his friend, Patrick Pelloux, a doctor and contributor to the weekly who arrived at the scene moments after last week's attack.
A dark-haired woman spent the entire march with her face buried against Luz's shoulder, clearly overcome with emotion. I will never know who she was, because she did not once look up from his chest.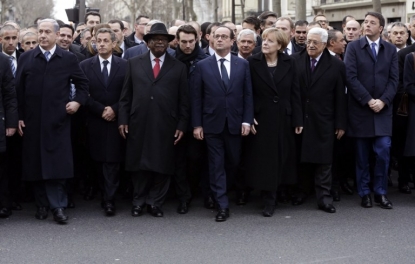 President Francois Hollande and fellow leaders at the Paris unity march on January 11, 2015 (AFP Photo Pool / Philippe Wojazer)
Many people have spoken out against the presence of so many politicians at the march – accusing them of exploiting it for their own ends. But why always see the dark side in everything? All of us were deeply shocked by what happened. Why should they not be?
There's been a buzz of controversy about Nicolas Sarkozy too, with some saying he elbowed his way into the front row alongside world leaders. Whatever happened, neither myself nor my colleague Patrick saw it. Politicians the world over can't help but try to jockey for the best spot in a photograph - everyone knows that. What I can say is that, as I watched all those leaders march together, I never once felt like they were acting. Quite the opposite, it felt like a powerful, rare and solemn moment in which dozens of personalities with nothing in common pulled together behind a common cause.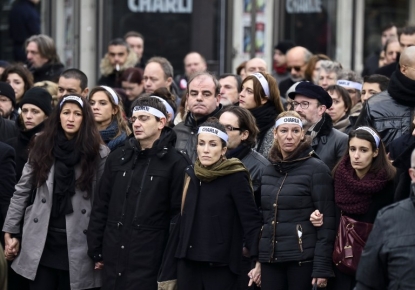 Surviving Charlie Hebdo cartoonist Corinne Rey, alias Coco, (3rd left) with fellow staff at the unity rally in Paris on January 11, 2015 (AFP Photo / Eric Feferberg)