A Brexit homecoming
The Hague -- Homecomings are always hard. And returning back to the fold after years abroad as an expat can be unexpectedly brutal. Times have changed. You've lost touch with the country you left behind.
And so it has been for me, a Brit landing back in Europe just as the Brexit row is reaching its climax, and in time to watch my country painfully grappling with its biggest political crisis in years.
To misquote the Clash, the London band whose punk tunes pervaded my teenage years, "Should we stay or should we go now?" Leave the European Union that is.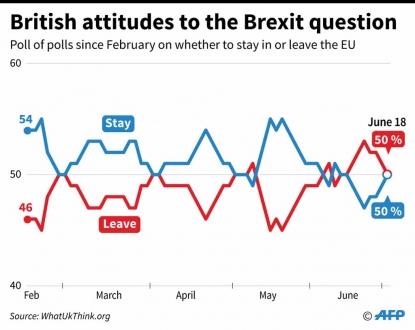 ((AFP Graphics))
In only a few days, Brits will be taking part in what will likely be the most consequential vote of a generation, although unfortunately like millions of others who have lived abroad for more than 15 years, I cannot participate.
But since settling in The Netherlands last August, we've returned to Britain for several visits. It's a luxury which my family hasn't enjoyed for years. And it's given us a ringside seat to the hardening dispute about the country's future direction. What started off as a polite debate has grown increasingly bitter and divisive. It's become more of an ugly, no-holds barred, angry brawl.
At a recent gathering last month in England, I was surprised not to find a single person who has been convinced by the Remain campaign spearheaded by Prime Minister David Cameron. After years away, I was obviously totally out of synch with the pulse of British life.
"We don't want to be ruled by (German Chancellor Angela) Merkel," said one old lady as we chatted on a sunny spring day. "We fought two world wars, so we wouldn't be ruled by the Germans."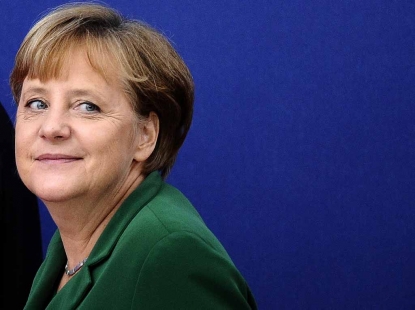 German Chancellor Angela Merkel, Novembe, 2011. (AFP / Jewel Samad)
I nearly spit out my cup of tea. Only a day earlier, I'd blithely told my husband he had to stop doing his beloved imitation of Winston Churchill's "We will fight them on the beaches" speech – which has the kids rolling their eyes  --  because nobody mentions the war anymore.
I thought in this era of globalisation, cheap flights and 24-hour connectivity, we'd moved on from the early 1970s when a man in a launderette spat on my mother when he heard her German accent, and told her to go back where she belonged.
You see, I'm half German, the product of a German mother and a British father, who met in a divided, ruined Berlin less than a decade after World War II.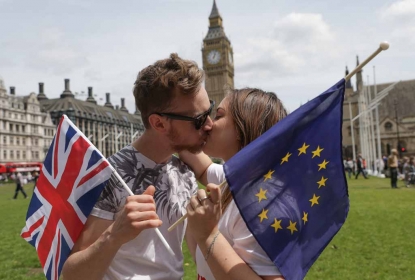 (AFP / Daniel Leal-olivas)
While my grandfather, a trained dentist, was drafted in his late-40s by Hitler's Nazi army in the final pangs of the war to work as a doctor on the U-boats, my hubbie's granddad was in a pathfinders unit in the D-Day landings. While my English granny lost her first beloved in World War I, my German Oma became one of the "Truemmerfrauen" who were paid to remove by hand the rubble of Berlin's streets in the 1940s.
Growing up, I never completely identified as either British or German. When schoolfriends asked what I was, my reply from a very young age was always "European."
I carry a British passport, drink my tea strong enough to stand a spoon in and prefer Marmite or marmalade on my toast. I grew up on quintessentially British books like "Paddington Bear" and the Narnia series, and followed the twists and turns of British politics through the Thatcher years.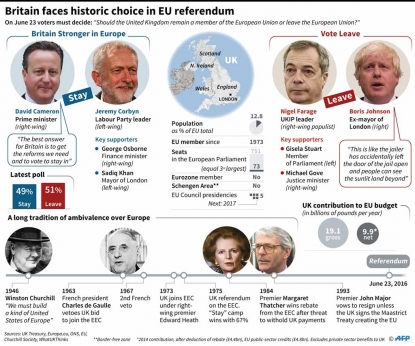 ((AFP Graphics))
But I also craved German Lebkuchen sent every Christmas by Oma, was bounced on my mother's knee to German nursery rhymes still ingrained in my memory and wept as I watched the TV news of the Berlin Wall being torn down, reuniting a city I considered my second home.
So like many in Britain I come from immigrant stock. And with immigration topping the agenda in this Brexit season, this debate over the EU is hard. It's visceral and gut-wrenching, and it's tearing many families , just like mine, apart. And polarising a nation.
One of my relatives, who campaigned for Britain to join the Common Market in the 1975 referendum, is now thinking of voting to leave. Not because of what is seen as unchecked immigration. But because of over-arching EU rules and bureaucratic red-tape which at times have left the famously bloody-minded Brits, well, bristling.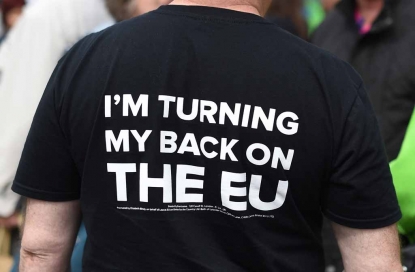 (AFP / Paul Ellis)
Just a few weeks after the eye-opening afternoon with the old lady, I was back in Britain for another celebration, this time on the other side of the hilly mountain range known as the Pennines which in past centuries marked the border between rival branches of the House of Plantagenet who fought in the Wars of the Roses.
This time there was an overwhelming number of voices raised in defence of Britain remaining within the EU. Their argument? Yes, the EU needs to reform, but Britain can help do that from within. Leaving will rob Britain of the benefits, and could spell even more economic hardship. And who wants to get a visa for every trip to France or Spain?
Strangely that event was held less than 20 miles from the Yorkshire village of Birstall where MP Jo Cox, whose shocking murder last week put the entire Brexit debate into a whole new sinister light.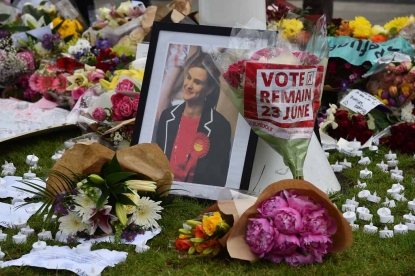 A makeshift memorial to Cox in Parliament Square in London. (AFP / Ben Stansall)
Cox, a strong supporter of the Remain campaign, was shot and stabbed in broad daylight on a street by a man who reportedly shouted "Britain first!" in what police have called a "targeted" attack. Her alleged attacker is thought to be a mentally-ill extremist who gave his name in court as "Death to traitors, freedom for Britain."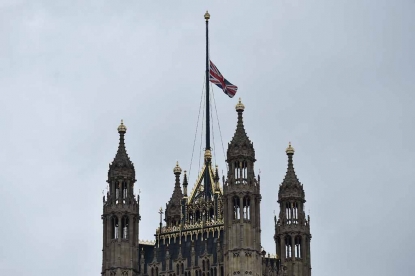 (AFP / Ben Stansall)
Cox's murder, the first of a sitting MP since 1990, shocked the country and has left many Brits, my family included, struggling to comprehend how things got this far.
Whatever Thursday's outcome, the scars of this controversial and historic battle of Britain are likely to run deep and take a long time to heal.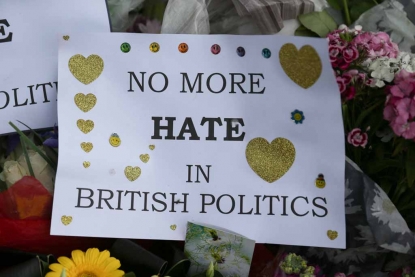 (AFP / Daniel Leal-olivas)