Twinkle-toed Japan sprinter still breaking records at 105
TOKYO, October 29, 2015 -- For a runner to impress Usain Bolt, you've got to have something special. At 105, Hidekichi Miyazaki has it in spades.
The twinkle-toed Japanese centenarian recently set his latest world record – the fastest 100 meters run by a man in the over-105 age category.
Jamaican giant Bolt was so impressed that he tweeted about the feat.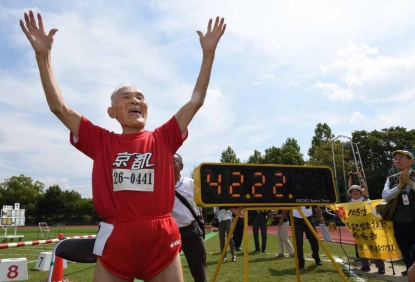 Hidekichi Miyzaki celebrates after setting his world record. (AFP / Toru Yamanaka)
I first met Miyazaki last year, when he challenged the world's fastest man to a rumble.
We agreed to stay in touch after meeting and exchanged emails with the help of family members, who invited me to return to Kyoto to watch Miyazaki's latest world record tilt.
They assured me he was "training hard" -- which involved popping a kilogramme weight in a rucksack and walking around his local park -- and that he was still consuming daily doses of his secret weapon, his daughter's homemade tangerine jam.
In a country with one of the world's highest life expectancies, Miyazaki is a poster boy for Japan's turbo-charged geriatrics.
Hidekichi Miyazaki is adored and has a large fan following in Japan, which has one of the world's highest life expectancies. (AFP / Toru Yamanaka)
Born in 1910 -- the year Japan annexed Korea and when the Titanic was still being built -- he only took up running in his early 90s and prepares for races by taking a catnap.
His age does carry some disadvantages – Miyazaki loses valuable seconds because he can't hear the starting gun go off.
Standing just 1.53 metres (five feet) tall and weighing in at 42 kilogrammes (92 pounds), the pint-sized Miyazaki is known as "Golden Bolt" for mischievously striking Bolt's "lightning" pose after races.
Cameras capture Hidekichi Miyazaki striking his "Golden Bolt" pose after the race. (AFP/Toru Yamanaka)
Such is his celebrity that his recent race drew wall-to-wall media coverage and at one point, when his 79-year-old daughter Kiyono came over to say hello, we found ourselves mobbed by Japanese camera crews jostling to get a shot of the hero.
It is frankly easier to get an exclusive interview with Usain Bolt than Hidekichi Miyazaki, but he had promised AFP would be the only interview he did, so we were 'tight.'
After ascertaining that, unsurprisingly, no mark previously existed for this age group, I tip-toed clumsily around the subject of Miyazaki's "conditioning" before travelling to Kyoto. I needn't have worried.
"Oh, he's feeling very perky!" his son-in-law assured me, and off we went to watch "Golden Bolt" race into the Guinness World Records book.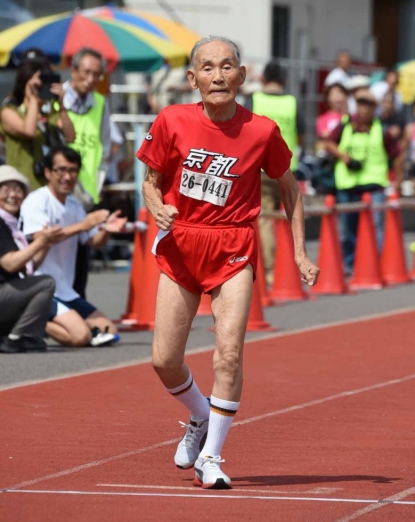 Hidekichi Miyazaki crosses the finish line on his record-setting 100-metre race. (AFP / Toru Yamanaka)
A day after turning 105, in toddled Miyazaki looking sharp as a tack in white slacks and a panama hat, a flame red sprint suit underneath: ready to float like a butterfly and sting like, well, a mosquito perhaps.
He stopped the clock in 42.22 seconds to loud cheers from hundreds of adoring fans and was greeted by two of his grandchildren with bouquets of flowers. And then the money shot: the "Lightning Bolt" pose for the cameras.
As local media tripped over themselves and became tangled in electrical cables, the family and event organisers smuggled us into the changing room for our exclusive interview with Miyazaki, who was as cheeky and confident as ever.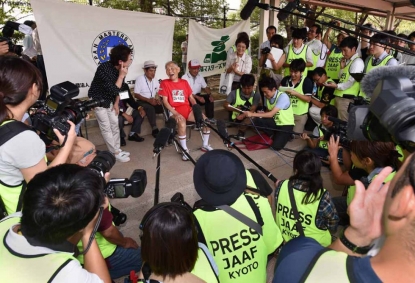 Journalists crowd around Hidekichi Miyazaki after the race. (AFP / Toru Yamanaka)
Asked about Bolt's recent heroics at the world championships in Beijing, he broke into a mischievous smile and said: "He hasn't raced me yet!"
And when informed that in the time it took him to run 100 metres, Bolt could have done so four times, Miyazaki feigned indignation.
"I'm still a beginner, you know," he grinned, his certificate from Guinness World Records officials poking out of his pocket.
"I'm not happy with the time," he declared. "I started shedding tears during the race because I was going so slowly. Perhaps I'm getting old!"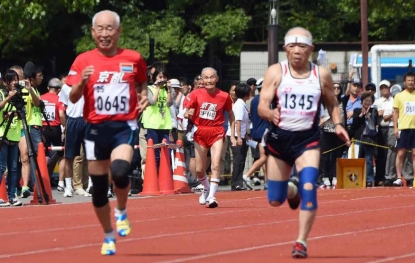 Hidekichi Miyazaki runs with the other competitors in the over-80 age group. (AFP / Toru Yamanaka)
Such is Miyazaki's infectious lust for life that he soon began to get a little boastful, albeit in a forgivable and adorable way.
"My brain might not be the sharpest but physically I'm tip-top," he said. "I'm fit as a fiddle, the doctors are amazed. I can definitely keep on running for another two or three years."
I remembered, with embarrassment, how I struggled to get out of bed that morning, having pulled a hamstring reaching for the TV remote the night before.
"It's all about willpower," Miyazaki said of his need for speed. "You have to keep going."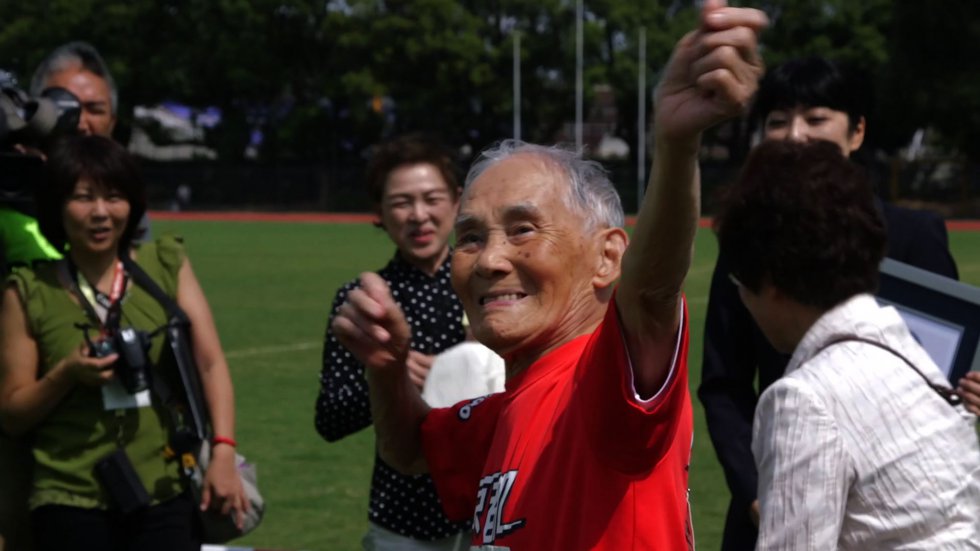 Click here to watch on mobile device.
"I can't think about retiring," said Miyazaki. "I have to continue for a few more years, to show my gratitude to my fans."
To cap a remarkable 24 hours, the next day Bolt himself tweeted: "S/o to Hidekichi Miyazaki of Japan" alongside a photo of Miyazaki's striking that pose.
It was even reported that Bolt's agent had said the Olympic champion would race Miyazaki next time he visited Japan.
"That's just splendid," came the e-mail reply a few days later from the Miyazakis. "Dad will look forward to that."
Alastair Himmer is an AFP sport and lifestyle correspondent based in Tokyo. Follow him on Twitter @alastairhimmer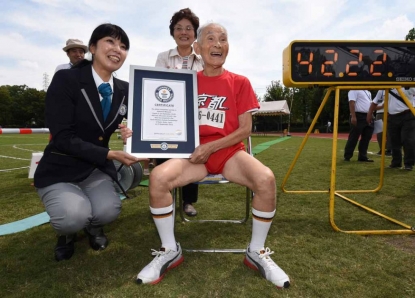 Hidekichi Miyzaki holds his certificate from Guinness World Records after setting his record in 100 metres in the over-105 age category. (AFP / Toru Yamanaka)