Sizable issues at Japan phallus festival
Kawasaki, Japan, April 29, 2016 -- Just another ordinary day as our AFP team reported recently on Japan's Festival of the Steel Phallus, where revellers carry giant phalluses through the streets to worship the humble penis -- irrefutable proof that we got 'lifestyle' covered from all angles.
At what has to be one of the world's oddest festivals, little children and grandmothers in kimonos sucked on penis lollipops, while an anatomically correct radish-carving contest drew a crowd of sniggering onlookers.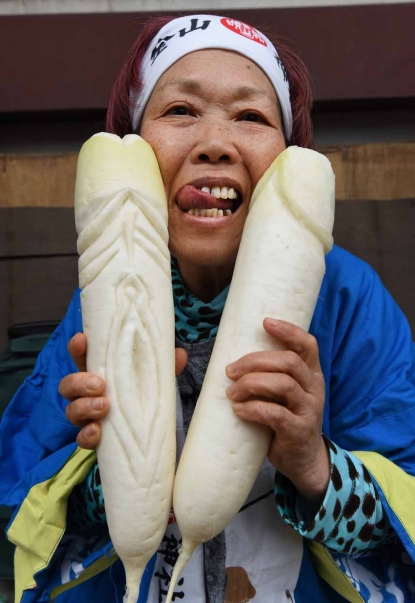 Radishes transformed, April, 2016. (AFP / Toru Yamanaka)
"Only in Japan," I caught myself saying for the umpteenth time.
I had gone to the shrine in Kawasaki the evening before with Tokyo photographer Toru Yamanaka and videographer Quentin Tyberghien to interview the Shinto priest and for a ceremonial toast of sake to pray for the safety of the 30,000 or so festival-goers expected the next day.
Flanked by phallus-shaped vegetables and candles left on the shrine's altar as offerings to the gods, priest Hiroyuki Nakamura spoke at length about the history behind the Kanamara Matsuri.
But one tiny nugget stood out, and my jaw hit the floor with an audible thud.
"If young children are not used to seeing (male genitalia), they could get into a bit of a panic when the time comes," he said in all seriousness.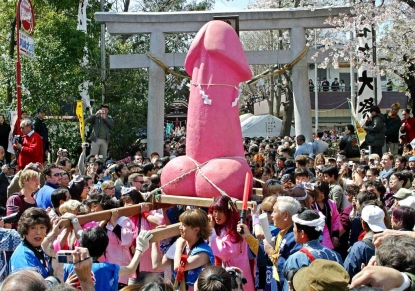 The festival in April, 2003. (AFP / stringer)
"Only in Japan," I muttered again as we packed up our gear. Imagine that statement coming from a Catholic priest.
The next day we pushed our way through the throng: giggling schoolgirls posing with their 'willipops' and blushing housewives perching babies on a giant see-saw of frighteningly accurate likeness to pray for fertility.
A group of middle-aged men behaving badly in toy glasses with plastic penis noses gave a beery cry as they suggested our camera's microphone with its blue cover and AFP logo was the wrong colour and shape.
It was only mid-afternoon and many in the crowd were already well and truly pickled.
Another thing not in doubt at the 'Willy Festival', as it is colloquially known, is that size clearly matters.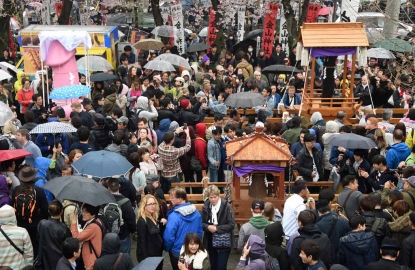 Phalluses galore, April, 2016. (AFP / Toru Yamanaka)
In the highlight of the festival, groups of locals parade three heavy phalluses around the city -- the biggest as tall as a full-grown man.
Legend has it that in the Edo Period (1603-1868) a sharp-toothed demon inhabiting a woman's vagina castrated several unfortunate young men on their wedding nights.
But a local blacksmith forged an iron dildo to break the demon's teeth and today a three-foot (one-metre) black steel phallus -- looking uncannily like Darth Vader's 'Mini Me' -- sits in the shrine's courtyard to honour the Shinto deities of fertility, childbirth and protection from sexually transmitted infections.
Over the centuries, sex workers also made a pilgrimage to the shrine to seek its powers of protection before the festival became a tourist attraction in the 1970s.
Finding revellers to interview was not a problem, many making a beeline for the camera waving erotic lollipops.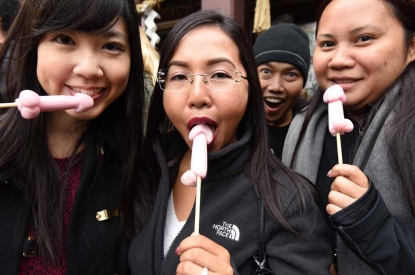 Lollipops transformed, April, 2016. (AFP / Toru Yamanaka)
"It's about propagating the species," nursery school teacher Natsuki Kanayama told AFP, holding lollipops in both hands with another poking out of her cleavage. "I'm praying that I can have as many children as possible."
It was hard to argue with her, though I didn't know where to look.
There is a serious side to all the frivolity, despite the bizarre sight of normally reserved Japanese ladies posing with oversized dildos as proceeds from sales of the saucy memorabilia go to HIV research.
Not surprisingly, the festival drew curious stares from visiting foreigners.
"It's insane," said American tourist Jason Bradley. "I've heard about 'Cool Japan' -- I guess this is what they mean."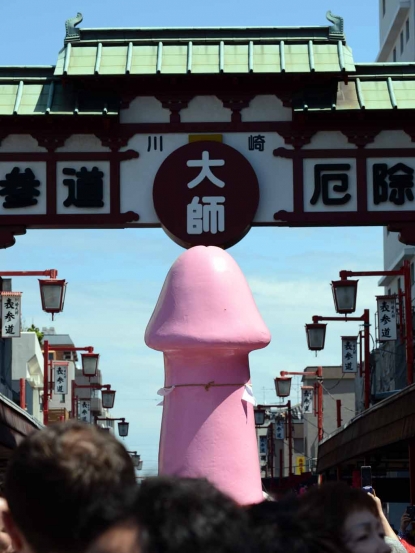 The festival in April, 2013. (AFP / Toshifumi Kitamura)