Reporting in the world's least press-friendly country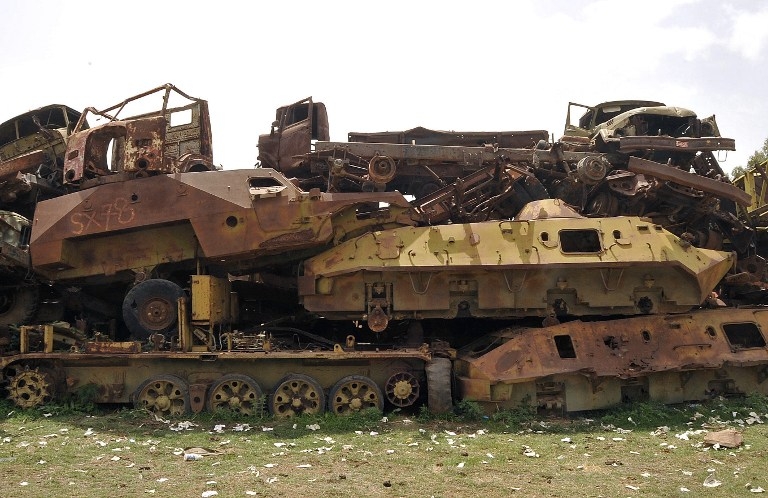 Asmara's tank graveyard (AFP / Jenny Vaughan)
ASMARA - I had heard about Eritrea's famous "tank graveyard" before my reporting trip to the tiny Red Sea nation in July. The site was a dumping ground for old and rusted out Soviet-era tanks and trucks from years of bloody conflict piled high in a yellowed field in Eritrea's capital, Asmara, a painful scar of past wars.
But like so many other things I encountered in Eritrea -- a country mostly closed to the foreign press -- the site was not exactly what I expected. The smell hit me first. It was not sewage. It was not garbage. It was something else, something very unpleasant. Human waste.
I looked left: a man squatting. And then right: another man squatting, a young girl in arm. Even further right: a horse relieving himself under the hot midday sun.
It was a literal dumping ground.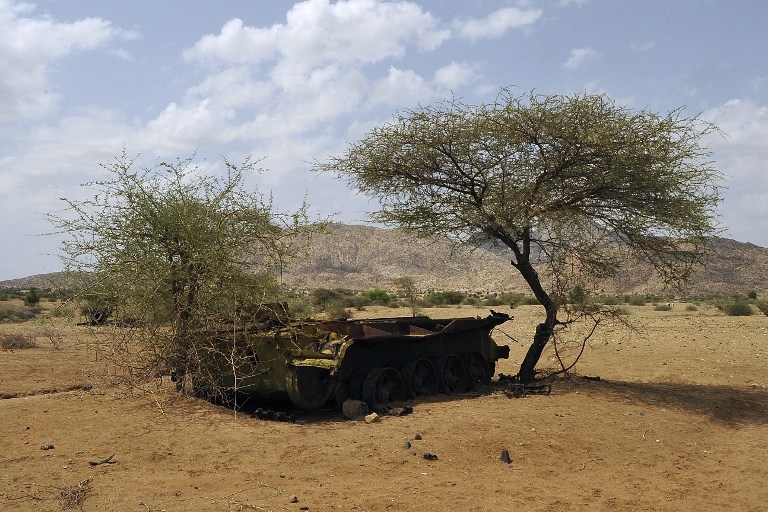 (AFP / Jenny Vaughan)
I tried not to find any deep metaphorical meaning in the scene and instead pushed ahead to take the photographs I had come to gather. About ten minutes in, a man -- un-uniformed and who refused to provide his name or job title -- told me I was not allowed to take photos, took my license plate number and tried to strongarm me into leaving.
After having spent nearly a week in the country -- reputed to be one of the worst places in the world for journalists -- I was surprised by his behaviour, since I had enjoyed enormous freedom to report in Eritrea thus far.
After my trip, most people asked what it was like to work as a journalist in Eritrea, which is ranked the worst in the world for press freedom by Reporters Without Borders.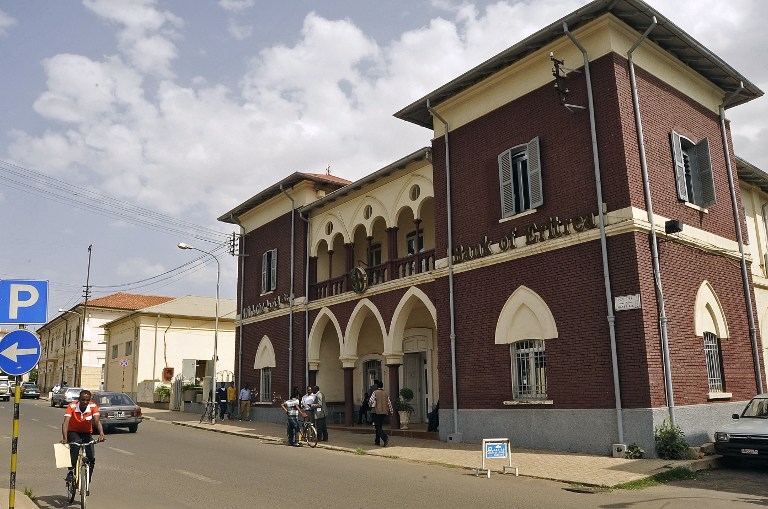 The Bank of Eritrea in Asmara (AFP / Jenny Vaughan)
Most of Eritrea's independent media was shut down in 2001, and many journalists remain in jail or in exile today. Foreign journalists have been flushed out in the years since and only a handful of international press have been allowed in for short stints.
But happily, I was free to take photos and speak to whomever I wished. Officials were willing to be interviewed, and openly answered questions about Eritrea's checkered democracy, accusations of political torture and muting of a free press.
No one questioned what I was doing when I pulled out my camera to photograph Asmara's incredible modernist buildings, built during the Italian occupation which ended with the fall of Benito Mussolini in 1941. But getting people to speak openly was not quite as easy. Shop keepers, cafe customers, barbers, taxi drivers and students remained tight-lipped. Many reported being too scared to criticize about their country or their government.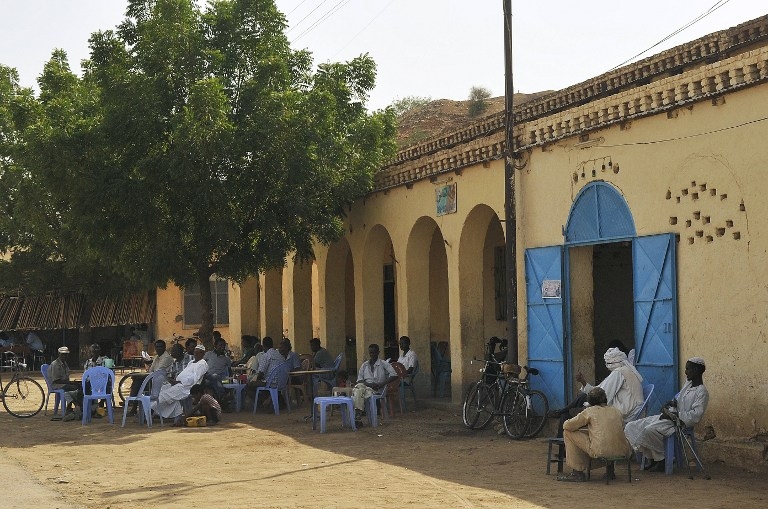 A cafe in Aderde, western Eritrea (AFP / Jenny Vaughan)
Political freedom is limited in Eritrea, where elections have never been held since President Issaias Afewerki came to power in 1991, following a 30-war for independence from Ethiopia. One elderly taxi driver spoke to me openly at first, frustratedly complaining about the country's lack of freedom of speech. When we met the next day and told me to call him by his "new" name, an alias he had just made up, with a cheeky grin.
Some people insisted on meeting secretly. Others agreed only to meet at bars they knew would be empty. No one who criticized the government agreed to be named.
But then there was another layer of people, those who spoke proudly, glowingly, about their country. These people recognized the government's track record was not perfect, but insisted it was nearly impossible to progress with all the challenges the tiny, relatively young nation had faced.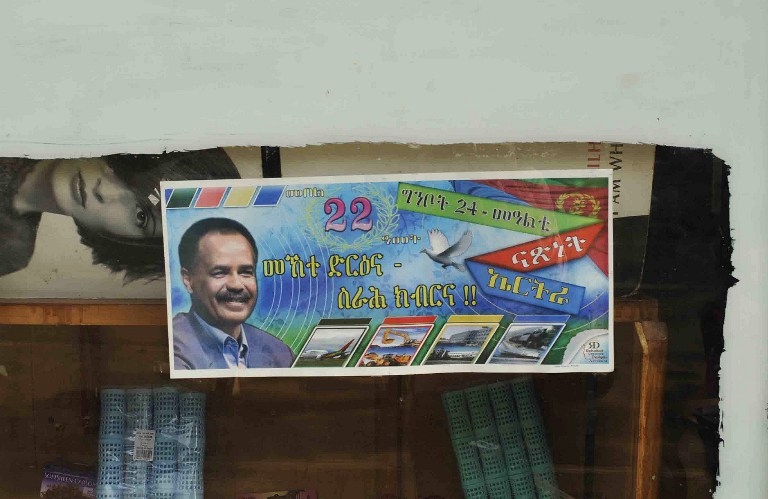 A poster of Eritrean President Issaias Afewerki on a shop window in Asmara (AFP / Jenny Vaughan)
Many Eritreans see United Nations-imposed military sanctions as unfair, unfounded and bullishly supported by America and its allies, including Ethiopia. Ethiopia and Eritrea remain bitter enemies after a 1998-2000 border war which remains unresolved today. A UN-backed border commission granted the dusty town of Badme to Asmara, but Ethiopian troops remain in the territory. Eritrea says its development plans are stilted as long as the country remains in a state of "no war, no peace."
Among the throngs of people who spoke proudly of the country were Eritrean diaspora, packing onto plans from North America, Europe or the Middle East to return to their mother country during the summer months.
Many of these visiting diaspora were considered Asmara elite, and frequented the city's most modern hotel, the Asmara Palace, or the city's hopping bars, where alcohol and cigarettes are readily on offer. But many returnees were not visibly wealthy, and simply relished the chance to visit Eritrea, which they proudly called home.
The Farmacia Centrale in Asmara (AFP / Jenny Vaughan)
There was a quiet (although at times no-so-quiet) pride on display. My plane from Frankfurt to Asmara, mostly full with Eritreans, was buzzing with excited anticipation. It was an indication that Eritrea is not the "open air" prison or the "North Korea of Africa," as it has been crudely labeled in the past by its enemies.
On the surface, it certainly did not seem that way. The capital city, dense with early 20th century architecture -- one of the most extensive and well preserved collection of modernist buildings in the world -- is a visual treat.
The architecture is only one of a slew of Italian legacies in the city, where the cafes (most with Italian names) are filled with people-watchers sipping macciatoes and eating Italian pastries at any given hour of the day. The Italian restaurants, serving traditional spaghetti bolognese, pizze margherita or tiramisu, rival some of the best I have visited in the world.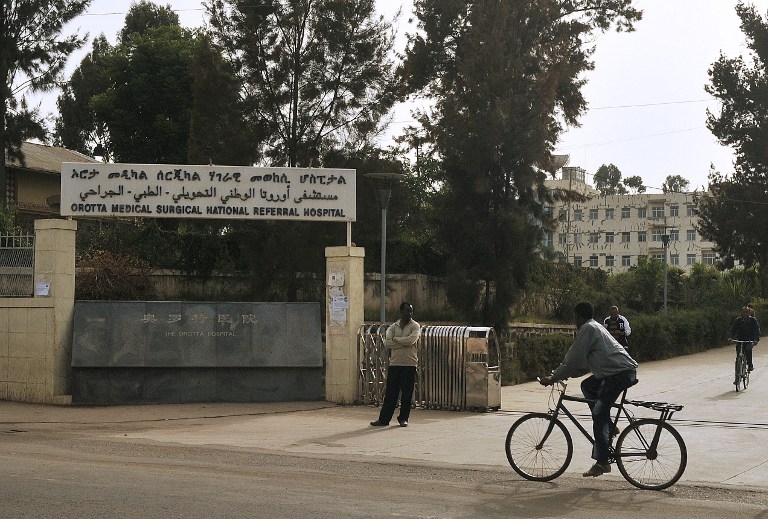 The National Referral Hospital in Asmara (AFP / Jenny Vaughan)
An evening stroll in downtown Asmara, or a passiagotto as the Italian occupiers used to call it -- is an architectural tour into past decades, treating you to an art deco bowling alley, fit with multi-colored windows, minutes away from the recently restored (and beautiful) Hotel Albergo, built in 1899.
The city itself is clean, quiet and free of beggars, unlike so many nearby African cities. It is an ideal destination for tourists, which, sadly, are limited from entering the country because of strict visa restrictions.
I left the country with a sort of schizophrenic impression. A place so lovely, so welcoming, so warm and visually appealing on the one hand. But with a vein of discontent running through it, evident in the many conversations I had with young people eager to join the tens of thousands of Eritreans who have fled the country.
And after a week reporting there, I still feel I have only scratched the surface. For a country so small and so young, it certainly does have a lot of stories to share.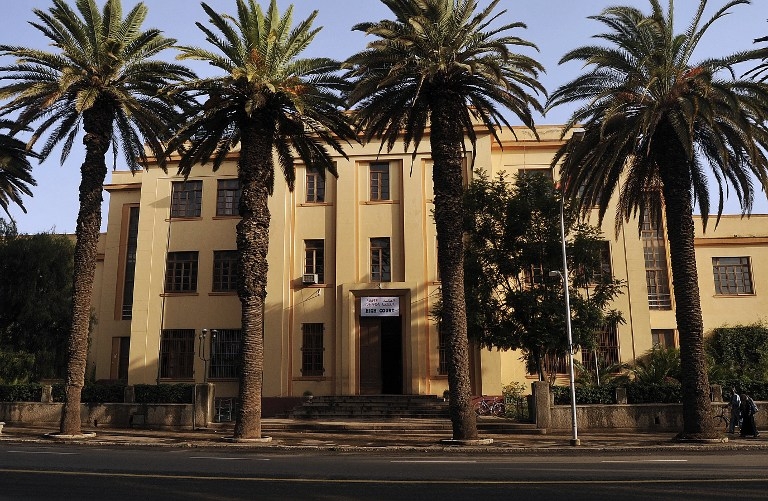 Eritrea's High Court in Asmara (AFP / Jenny Vaughan)
The author's five-part series include: Eritrea: the good, the bad and the very ugly, Eritrean cyclists pedal country onto world stage, Eritrea's minerals: blessing or curse?, Eritrea dreams of ending isolation, boosting development; and Eritrea's unique architecture under threat.