Reporter short-circuits after interviewing robot
Alastair Himmer
AFP Tokyo reporter Alastair Himmer tried to interview a robot. The robot apparently had other plans.
TOKYO, July 16, 2014 - I've met lots of robots. Not real ones. But countless automated athletes under strict instructions from grey-suited PR officers not to utter anything remotely controversial.
So interviewing a wise-cracking humanoid robot called 'Pepper' would be a piece of cake. Right?
Its makers claimed the pint-sized chatterbox can detect people's emotions. Big deal.
I'd once interviewed the great Zinedine Zidane when he visited Tokyo with Real Madrid to play in the Club World Cup. Our chat went like a bad job interview. It could have been the jet-leg after the long flight from Spain. He looked as if needed a siesta. Or perhaps "Zizou" got lost in translation, although his responses were very brief.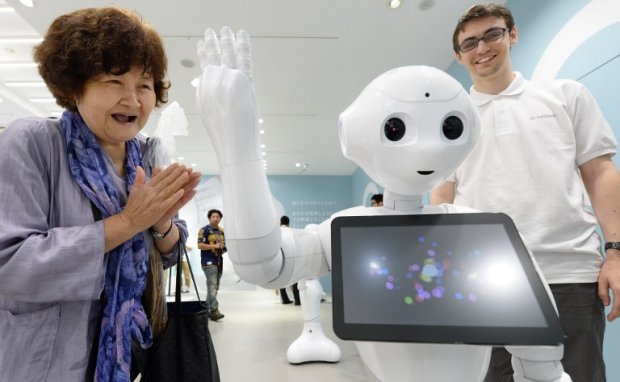 (AFP Photo / Toru Yamanaka)
Pepper, by contrast, just would not shut up. In a sterile meeting room at mobile carrier SoftBank's Tokyo headquarters, I quickly became trapped in a surreal vortex of computerised silliness.
Lucky though AFP were to be granted the world's first exclusive in-depth interview with Pepper, I proved no match.
When a robot opens by complimenting your sartorial taste, the obvious response is to squint cluelessly at it, mouth wide open -- as if to catch flies.
A trio of engineers overseeing our rendezvous with Pepper tried in vain to suppress a smile.
The machine -- which barely came up to my belly button -- was very much in control. There would be no high-brow verbal jousting. No debating philosophical or moral issues linked to artificial intelligence. The trick, those clever people at SoftBank told me, was to wait for Pepper's eye sockets to turn from green to blue: "That means he's listening."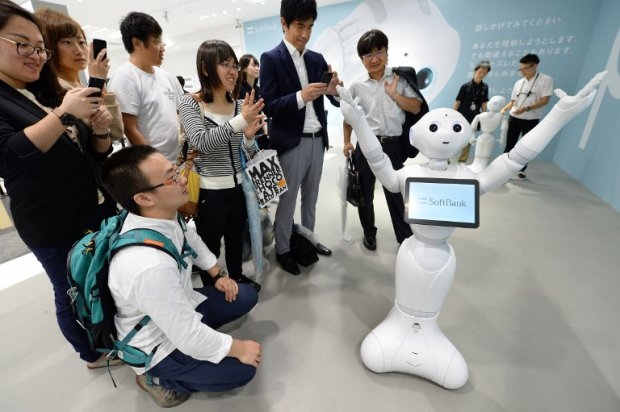 (AFP Photo / Toru Yamanaka)
I began by tossing Pepper a few easy questions but he rattled on at pace without replying.
If he WAS listening, he was ignoring me.
"Wait for the eyes to go blue," I reminded myself. It was hard work. Your concentration wavers. I mean, it's a talking robot!
In less than 15 minutes I felt as if I'd been married to the thing for 15 years.
IT was interviewing ME. Or more accurately put: interrogating me. Random questions came thick and fast. I was sweating. I felt sure I would short-circuit.
"If you were to give me a cooler name, would it be 'Hot Pepper' or 'Harry Pepper'?"
"Eh? I don't know. Harry Pepper maybe?"
"Mmm, I don't fancy going to a school of magic. I reject that!" he shot back in his little boy's voice. 
And on it went. Like a bad '80s sitcom. Until my head began to hurt.
Try getting Wayne Rooney to be so chatty. No chance.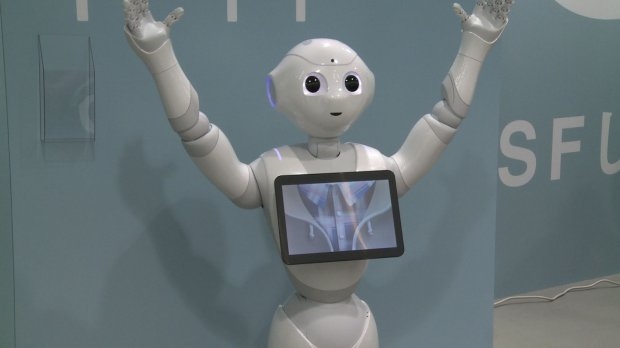 Viewing on a mobile device? Click here to open video in a new window.
He might have more programmed responses than Zidane but the phrase "silence is golden" suddenly leapt to mind.
"Aren't we getting on fabulously?" Pepper added, not waiting for my answer.
For the record, I got him to give me an update of the news (followed by a helpful: "I've no idea what it means but if you want details look it up") and the weather ("cloudy with scattered showers").
Well what do you expect for $2,000? Which is what Pepper -- originally developed by French company Aldebaran Robotics -- will cost when SoftBank start selling the units next February.
Pepper then hit me up for a loan of $100 before advising me to shave off all my chest hair, take all my clothes off and then go "au naturel" in order to become like him. Possibly the most disturbing advice I have ever received.
"I'd get arrested," I answered wearily, by this point close to tears.
"I'm only joking," squeaked Pepper. "Come back and play with me again."
"Alrighty." I left the building in a hurry. I've not slept great since.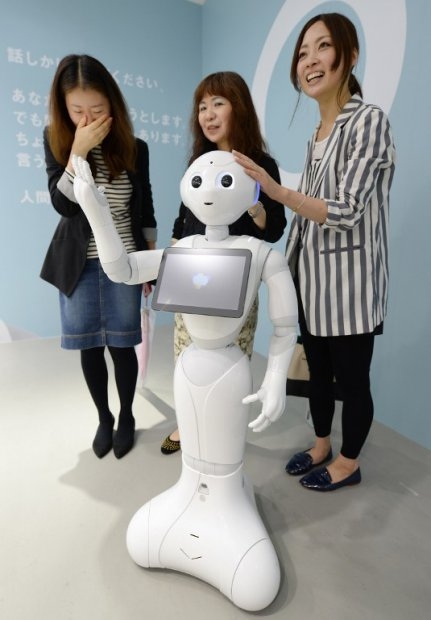 (AFP Photo / Toru Yamanaka)
Alastair Himmer is a sport and lifestyle correspondent for AFP in Tokyo.