Invited to a porn shoot: 'I'll wait outside'
 (AFP Photo / Yoshikazu Tsuno)
TOKYO, May 11, 2015 - When Japanese porn king "Shimiken" tweeted that there were more Bengali tigers than male porn actors in Japan, AFP Tokyo felt obliged, nay duty-bound, to launch a forensic investigation into this cause célèbre.
The alarming decline in the number of actors was an issue, surely, which gnawed at the very fabric of Japanese society? A thorough examination of Japan's $20 billion porn business would be needed. But this would be no ordinary assignment. Not by a long chalk.
It suddenly struck me: "What do I know about the porn industry?" Very little as it turned out.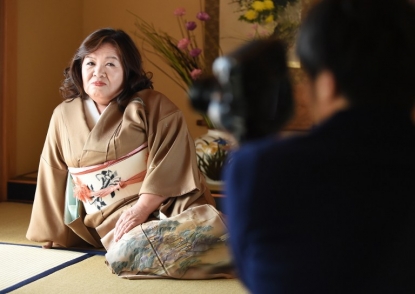 Yasue Tomita, 61, poses on a tatami floor as she makes her debut as a porn actress at a studio in Tsurugashima, Saitama prefecture, on March 17, 2015 (AFP Photo / Toru Yamanaka)
After double-checking with my editor that he is not, in fact, having a laugh, I type "Japanese porn" into Google with considerable trepidation and then set about e-mailing all 28 resulting production companies.
Almost immediately and without warning, however, our porn feature begins to morph, almost by osmosis, into two porn features. This wasn't in the script. 
In a bizarre development, we are now simultaneously examining the phenomenon of "silver porn" - entertainment by, and for, older people - and are invited to deepest Saitama where a 61-year-old was making her debut in Japan's "adult video" (AV) business.
As we climb out of the car, I notice my palms are sweaty. What is this? Isn't adrenalin. It is terror. I wonder if there is a polite way to ask: "Shouldn't you be knitting?"
(Video: 'Silver porn' shows 50 shades of greying Japan)
Interview and (fully-clothed) photo shoot in the bag, cameraman Antoine Bouthier throws a curveball, asking for a few more close-ups for his video piece.
Director: "Sure. The actress will take a shower now so please come this way!" Awkward silence. Followed by a "Eureka!" moment on my part: "I just write the words - I'll wait outside."
Feeling overdressed
In the meantime, we have been exclusively invited to interview a host of porn queens and the stud himself: Shimiken.
I meet a 39-year-old actress of the "juku-jo" (mature woman) genre called Yuko Shiraki on a photo shoot. She is in a bath robe and slippers. Her changing room is extremely warm and I feel overdressed. But stay focused. She tells me she used to be a truck driver hauling frozen fish.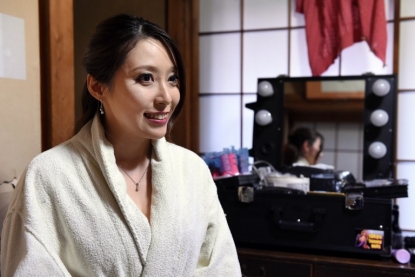 Adult video actress Yuko Shiraki, at a studio in Tokyo on March 14, 2015 (AFP Photo / Toru Yamanaka)
"Men now are less macho and less into sex," she explains, blaming the dearth of male porn stars on the growing social trend of "herbivore men" – the name given in Japan to men who shun sex and romance.
'I am Sex Man'
Next up is Anri Okita, famous in Japan for her "L-cup" bust size. Eye contact would be crucial here.
"It's physiological," she purrs when asked why there are only around 70 male actors servicing some 10,000 females in the industry. "Shimiken is a genius." Understand: regular Japanese guys just don't measure up.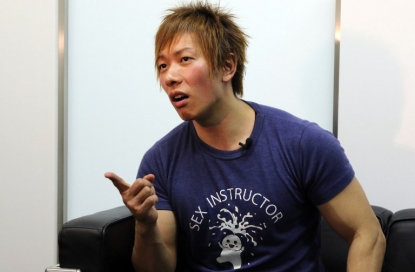 Japanese porn actor Ken Shimizu, known as Shimiken, during an interview with AFP in Tokyo on March 18, 2015
 (AFP Photo / Yoshikazu Tsuno)
The genius turns up in a DeLorean sportscar and hands me a phallus-shaped business card. "I'm Sex man!" says Shimiken by way of introduction. I admire his pluck for wearing a T-shirt with "Sex Instructor" scrawled across it. Then again, he has slept with over 8,000 women so who am I to argue?
'Cut!' - for the umpteenth time
We talk for two hours. Most of it completely unusable for a "family" news wire like AFP. But we still have more than enough for our exclusive - and we're getting closer in our quest for the truth. "Guys don't want to be compared to other actors," shrugs the 35-year-old. "And you can get rumbled quickly nowadays with social media. My mum walked in on a scene I was doing once. That was tricky."
The cameraman sighs "Cut!" for the umpteenth time as Shimiken uses another naughty word.
(Video: Japan's 'Pornaldo' keeps scoring as male actors fizzle)
Just when I thought I was done and could go back to covering sport (which was beginning to feel like something I had done in a previous life) I got a call from a company specialising in hardcore S and M movies. "We're shooting a movie on Monday," the voice says. "Please be here at 9 pm."
We enter a dank, dark building and are led up six floors to… a movie set. Surely just to say hello to the director?
An actor in his fifties is sitting in a blue dressing gown puffing on a cigarette. The ceiling is low and the set is crowded. The room smells very bad. In walks the actress in a robe. She drops the robe. "Okay, stay calm and breathe!"
We are 30 seconds away from "Camera, lights, action!" Veteran AFP cameraman Yoshikazu Tsuno snaps away at the director as our video guy sets up, nervously. Various heavy-duty S and M gadgets and equipment are readied. I'm feeling uneasy. And then, in the nick of time, another lightbulb moment.
"I just write the words - I'll wait outside."
Alastair Himmer is an AFP sport and lifestyle correspondent in Tokyo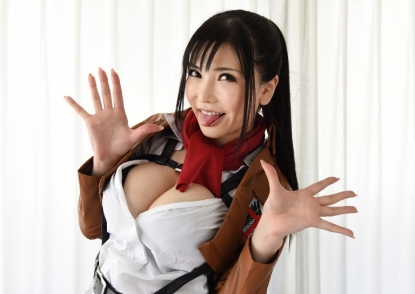 Adult video actress Anri Okita poses for the DVD package of her new video at a studio in Tokyo on March 26, 2015
(AFP Photo / Toru Yamanaka)