Beyond the headlines
Srinagar, Jammu and Kashmir -- Working on a long-term photo project is a privilege. You meet some incredible people and develop a level of intimacy with them that's just not possible on a news assignment or even a feature. I've been going up to Kashmir from my New Delhi base to work on this project for more than a year.
My editor and I wanted to find a project that would cover the story of Kashmir -- a former Himalayan princely state that was split between India and Pakistan at Partition and which both countries now claim -- in a different way, and eventually we came up with the idea of looking at mental health treatment. After decades of unrest, it was a very interesting angle to me -- how coping with such a reality was taking an emotional toll. So I started looking at why the Kashmir Valley in particular has such high levels of Post-Traumatic Stress Disorder (PTSD) and depression, and how that was approached and treated.
Initially I thought it would have a female angle because the situation in the Kashmir Valley has created a generation of widows, or mothers who have lost sons. But it became bigger than that. In the late 1980s an uprising erupted in India-held Kashmir and rights groups estimate that some 70,000 people have been killed in the violence that has followed. It's diminished since, but the valley remains tense and unrest still flares up, affecting people across the region. A Doctors Without Borders survey carried out in 2015 and published last year says more than 1.5 million living in the Kashmir Valley have symptoms of depression.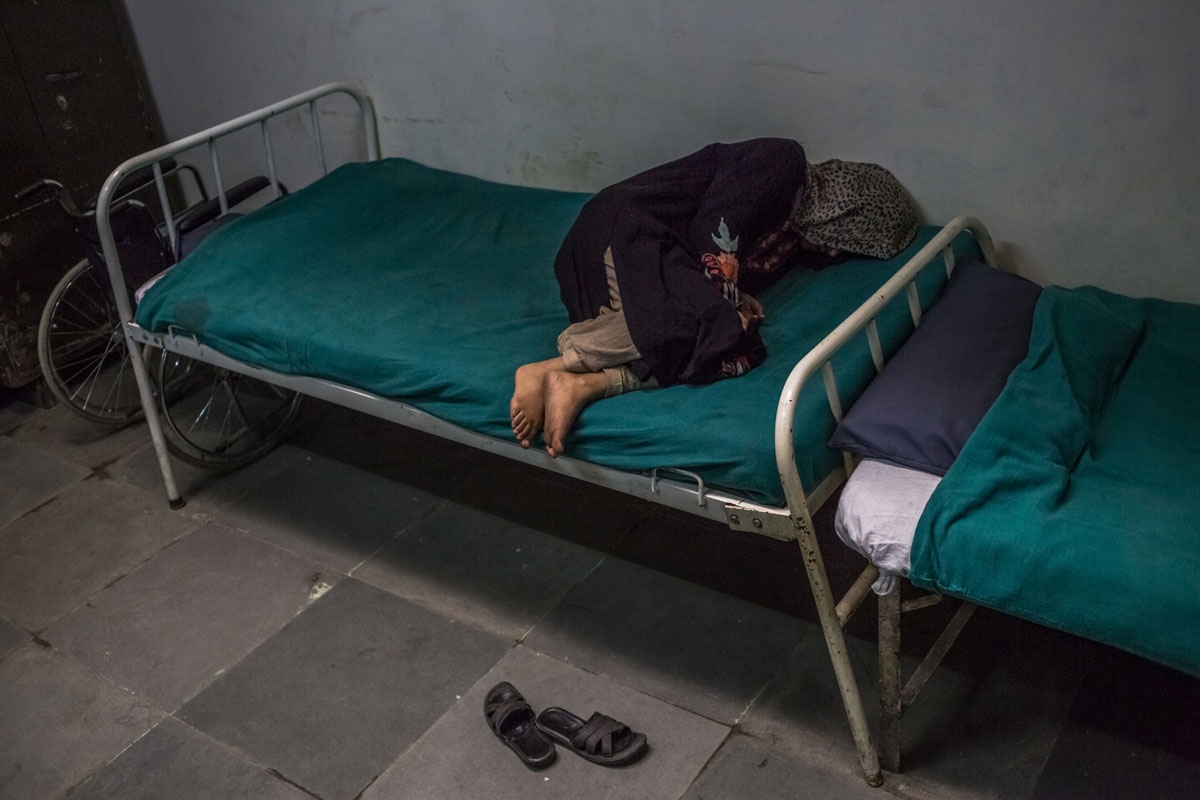 A patient suffering from symptoms of schizophrenia at the Psychiatric Diseases hospital in Srinagar. November, 2015. (AFP / Rebecca Conway)
I've been up in Kashmir more than a dozen times since I started and with a project like this, I can shoot more of what I want. Walking around Srinagar, which is the state's summer capital, I say hi to more people than I do in Delhi -- I have a lovely community of people there behind me and who have helped me in telling the story.
With a long-term project, you give people whom you are covering a way to tell their own story. They come to trust you. You are listening to them and trying to show a story that's not covered outside the day to day violence, which is something we're really used to seeing from Kashmir. I think that's important, especially when they feel no-one else is listening to them.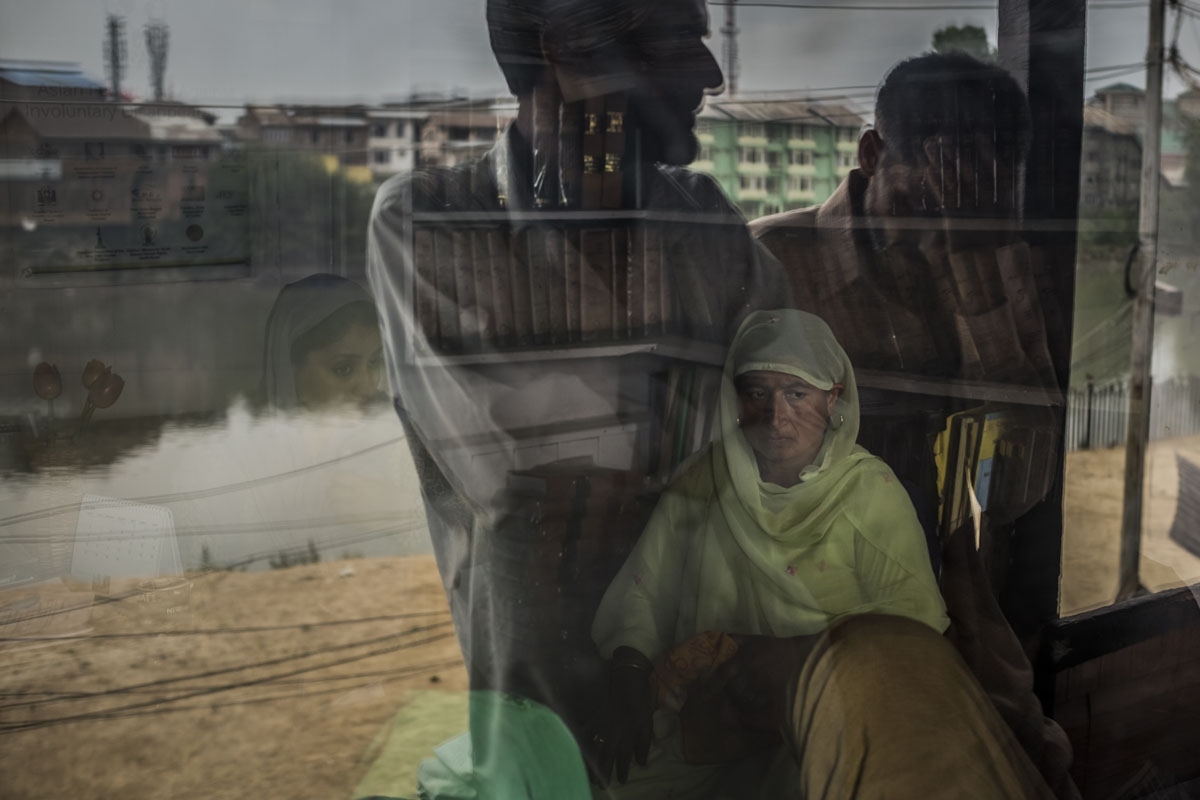 Relatives of Kashmiris who have gone missing wait to discuss their legal cases at an NGO in Srinagar. June, 2016. (AFP / Rebecca Conway)
One of the things that most surprised me was how open people were in discussing the issue of mental health. Kashmiris are quite reserved in some ways, especially in terms of being more emotional in public -- the state is Muslim-majority and more conservative -- and they live in a perpetually tense situation. They're worn down by it, so I was never sure how starting to talk about depression, which is somewhat stigmatised in South Asia, would be received. But the number of people who gave me their mobile numbers out of the blue, or who just started talking to me about what they're going through, or what a relative or their wider family are feeling -- that was really surprising.
Another thing is how welcoming people were to someone with a camera. I can't tell you how many times I was walking around during curfew when the situation was tense and someone leaned out of a window and asked me in for lunch. As soon as you talk to Kashmiris you see how warm and resilient they are, despite the situation they are living in. To have people still bring you into their space like that was very special.
I was quite struck by the street violence over the summer. The violence wasn't directly related to my story, but it really brought home the unpredictability of the situation. When street violence breaks out, you have protesters throwing stones at the Indian security forces. Those forces -- normally very young soldiers under strict orders not to allow protests -- respond with tear gas and rubber-coated bullets.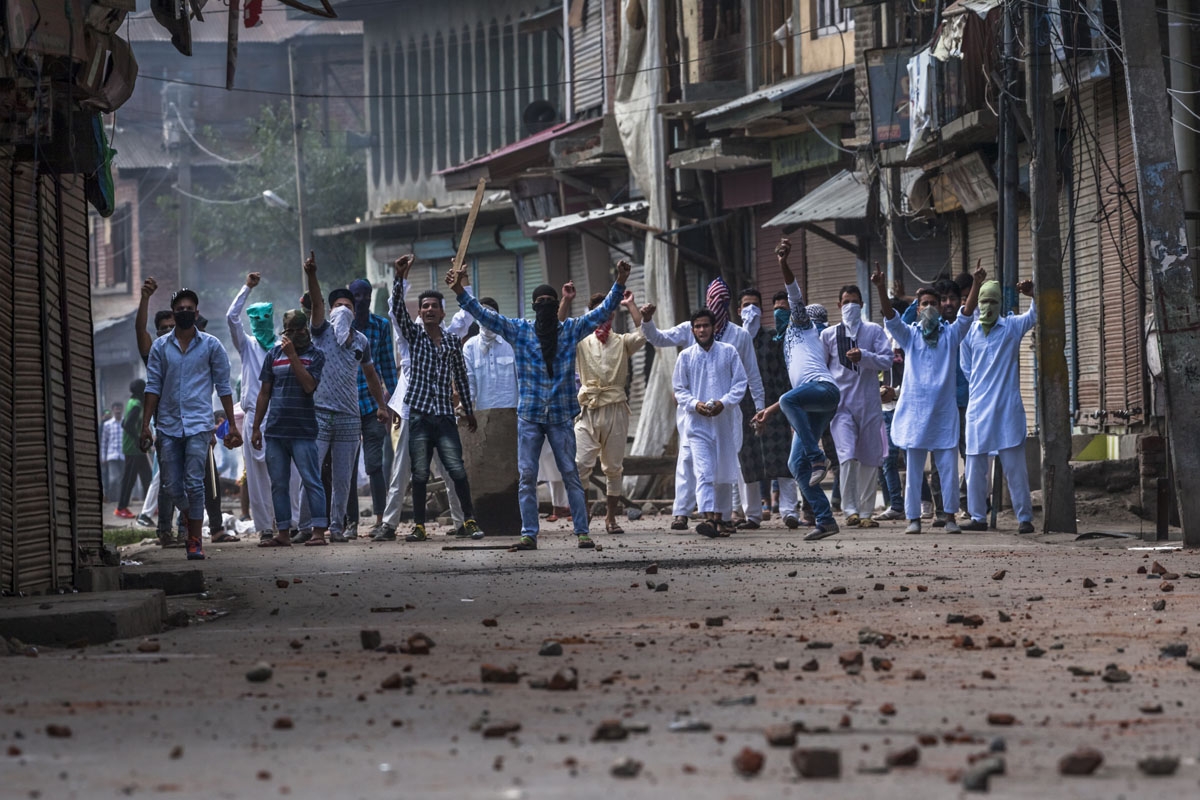 Kashmiri protesters in clashes with Indian forces during a curfew on Eid al-Adha, one of the most important religious festivals in the Muslim calendar. September, 2016. (AFP / Rebecca Conway)
This summer, the security forces started using pellet guns. Almost every day that I was at the main hospital in Srinagar, where most pellet injuries are treated you'd see ambulances pull up with those who'd been shot. One day I photographed a small group of boys from north Kashmir, who'd all been struck leaving mosques after Friday prayers -- it's a time that can be particularly volatile. They were all in their late teens or early 20s and each one of them lifted up their shirts to show me the pellets embedded across their backs.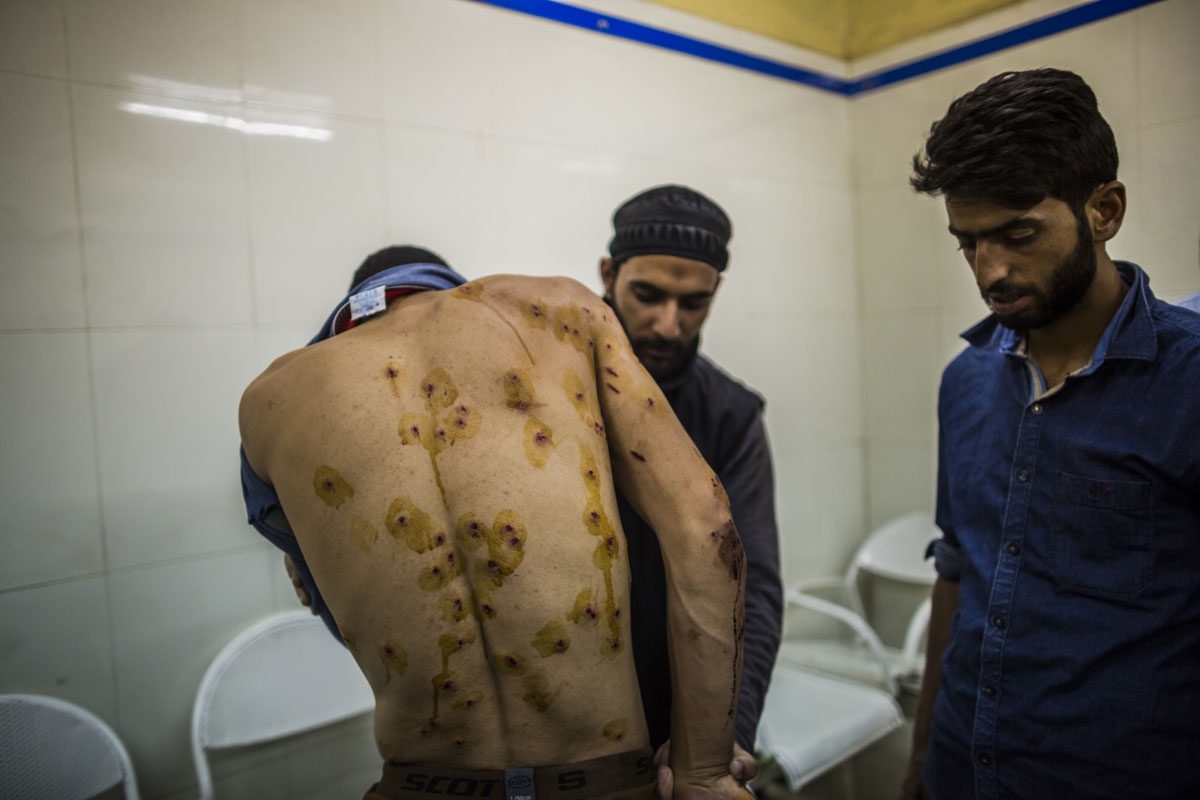 A victim shows off his pellet wounds. August, 2016. (AFP / Rebecca Conway)
Going back to a place again and again leads to you being able to take pictures that you just would not have been able to if you were on a short-term assignment and the issue of pellet injuries ended up being one of several examples.
At the tail-end of one protest, I met Mushtaq Ahmed, who is 11. His house is really close to a road in downtown Srinagar that's known for protests, and as a result sees clashes between Indian security and police. All the local photographers end up shooting there a lot as a resultm and it's just a nice place to walk around, as I find the people to be very interested in chatting. So I got talking to him at the tailend of the protest and popped my gasmask on him because his eyes were streaming - he'd been watching the clashes with neighbours. I remember telling him to stay inside when these things happen because he's this tiny, super cute kid who anyone would want to keep away from this stuff.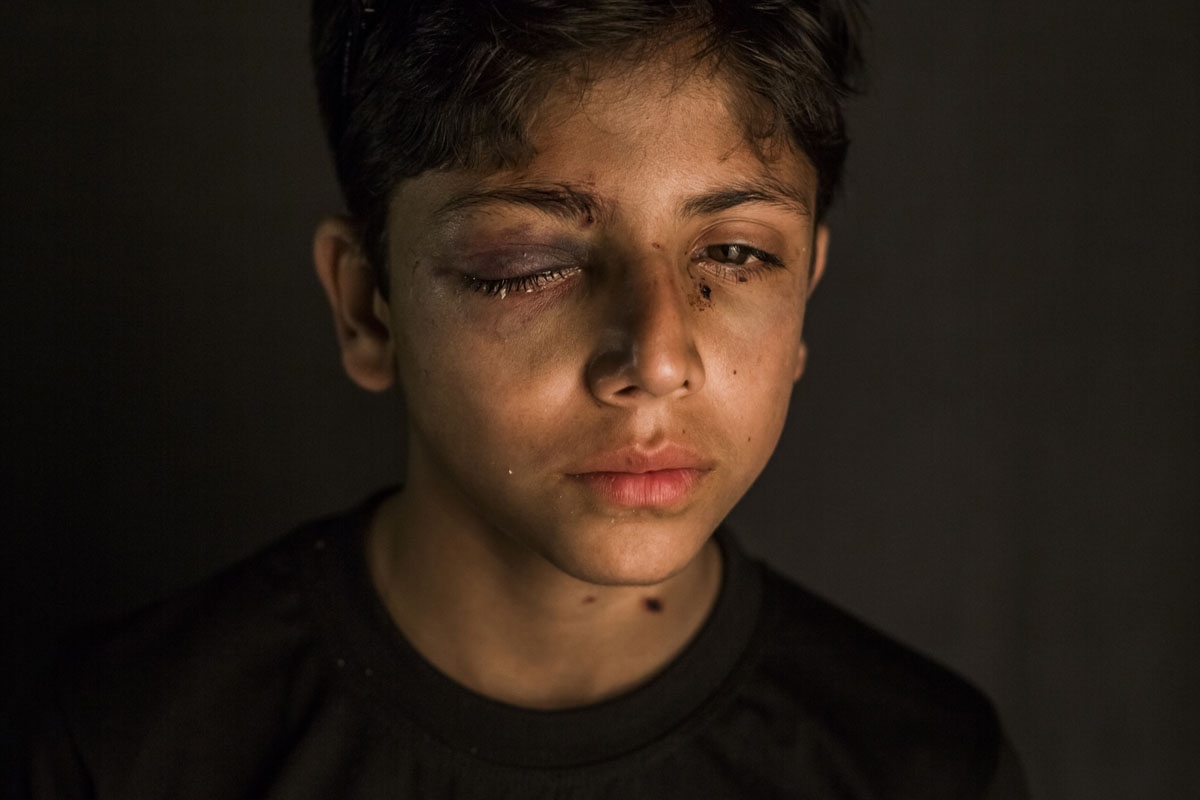 Mushtaq, 11, after being injured by pellets. October, 2016. (AFP / Rebecca Conway)
A month of so later I was essentially snuck into a hospital by staff one evening to shoot portraits of pellet victims. It took a while to organize. At first I tried navigating the usual channels but in the end I just went in and did the work under the radar. We set up a room near the ophthalmology wards, and tried to keep it quiet - not easy with a backdrop, lights, cameras and a volunteer who needs to go and ask people if they are willing to be photographed. I would have never been able to do something like that unless I had built up trust among my network of contacts.
And then Mushtaq came in with his father. I didn't recognize him. It was his Dad who saw me and said, "He knows you, you're always in Khanyar, we see you there all the time -- you let him try the gasmask on," etc. And I realized that this disfigured boy in front of me was the same tiny, super cute kid I'd seen a few weeks before. Except now he was blind in one eye.
It was heartbreaking. He was shot playing cricket, not while watching or taking part in a protest.  I really wanted a strong portrait for the story, but I never dreamed that it would mean photographing this particular child in these particular circumstances.
The shot of relatives grieving at a funeral is also a good example of repeated trips paying off.
I had really wanted to show the impact that these killings have on families, so had asked my various contacts to keep an eye out and let me know when there would be a funeral. I wanted to shoot a funeral of someone who was not killed as a result of a protest or because he was suspected to be a militant, but someone who went missing one day.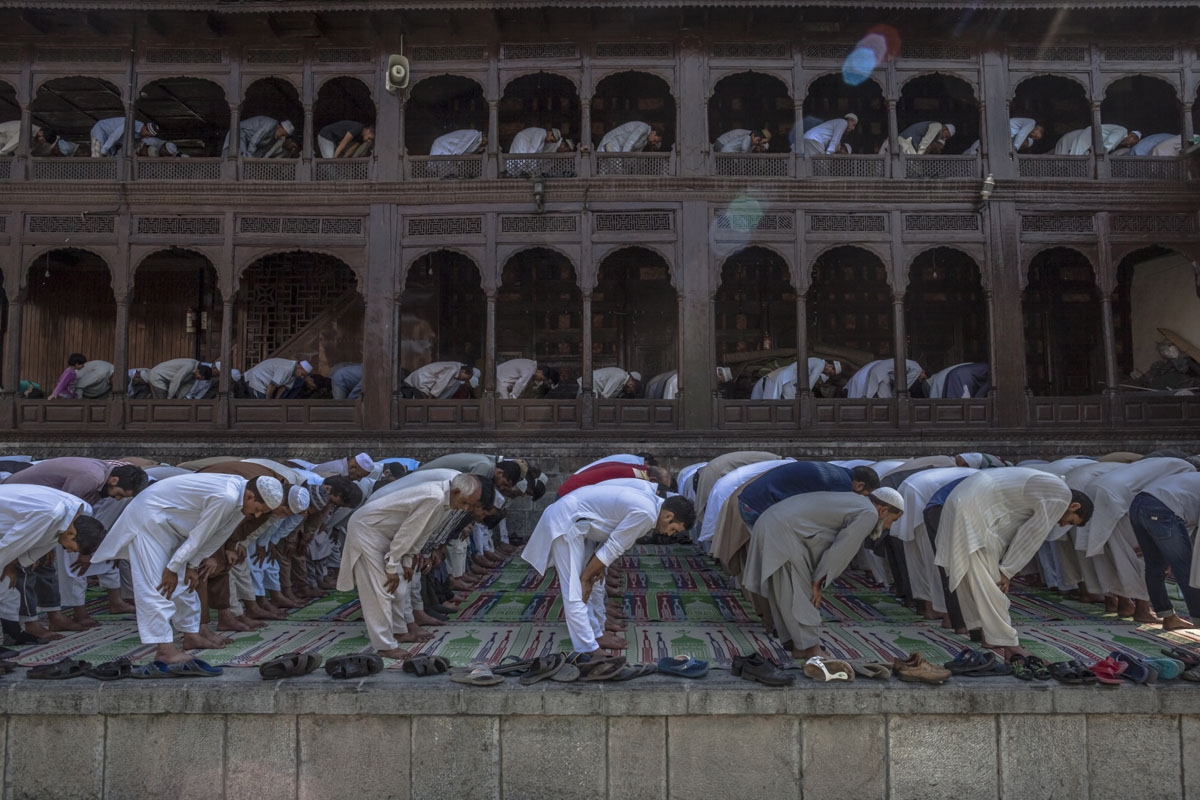 Prayers at the Shah-i-Hamdan shrine. September, 2016. (AFP / Rebecca Conway)
One of the contacts that I had established in Srinagar let me know of this particular funeral about to take place. So I was able to drive to the place -- Shopian, about 90 minutes away -- very quickly.
I got there just before the funeral prayers were taking place and had to ask the family and the local imam if it was OK to shoot, and basically jump in straight away and start working. That was kind of awful because it's really intrusive but it's the kind of aspect of the story I really wanted to tell. The woman in that frame is the aunt of the boy who died, Rasiq and I heard her before I saw her -- she walked out to the ground in the village where the men had gathered to offer prayers and she was just inconsolable; she basically collapsed, wailing, as the men from the village were arriving to offer namaz.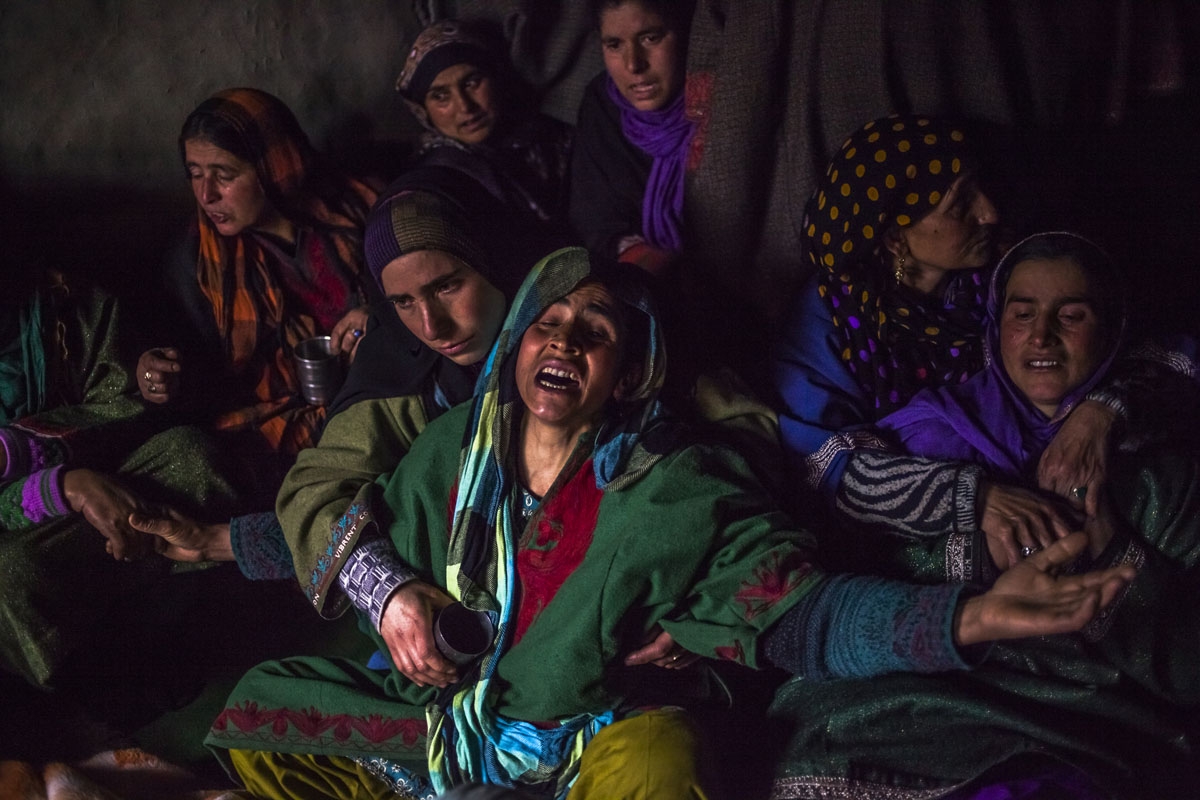 Rasiq's aunt at his funeral. December, 2015. (AFP / Rebecca Conway)
She was eventually led away. I went to the boy's house during the burial because I wanted to see if I'd be allowed to photograph the women and they let me in straight away. I shot this frame in a room of about 70 women, it was packed. It really shows how when someone dies like this in Kashmir,  people come from miles around to offer prayers and be there for the family. If a militant dies that number can be in the thousands, so it was a very telling, awful scene of ordinary Kashmiris united by loss. And I would have never gotten it if it weren't for the contacts established because of my repeated trips.
One of the things that shocked me the most during this assignment so far was going to Palhallan, a town about two hours away from Srinagar, to interview women whose husbands and sons have either disappeared or been killed in the violence. These were women who lost all hope. Most of them -- the ones whose loved ones have disappeared -- have never had closure. Their husbands or sons went out of the house one day and never came back - and they're willing to let me in, be interviewed, be photographed. One woman we interviewed in Kupwara, which is close to the Pakistan border -- her son just disappeared one day. She spent years searching for him -- she went all over the mountains, asking locals, asking the Indian authorities, paying money to faith-healers who'd promised to tell her where he was and never did - people in her village told her she'd gone mad.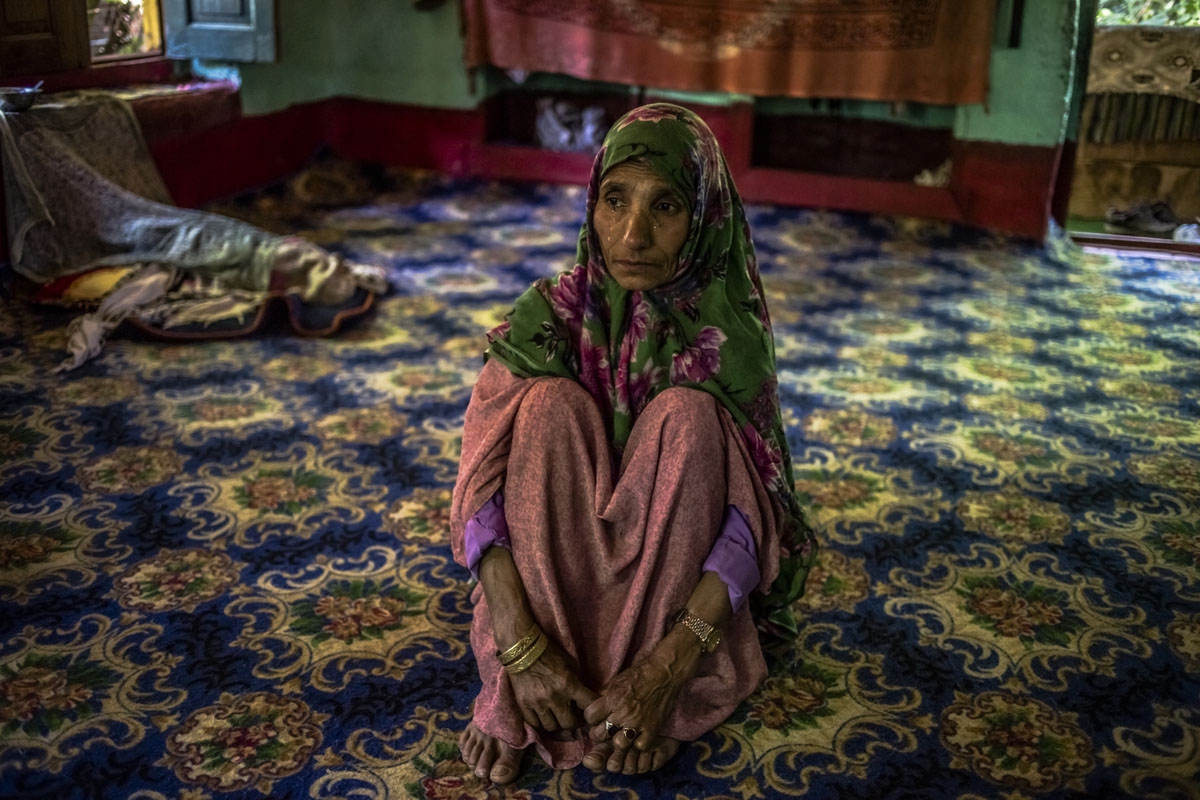 Kashmiri mother Rahma Begum, who is unsure of her age, recounts the disappearance of her son Mir Ali, who went missing in 2003, one year after he got married. For three years after he went missing, Rahma, who lives in Kashmir's Kupwara district, searched for her son, leaving home daily to visit surrounding villages and consult with 'pirs', or faith healers in the district of Sopore and Srinagar who told her they could 'contact' her son. One pir told her her son was near the border with Pakistan; another that Ali had 'appeared' to him and told him he had been abducted by a group of men. Yet another repeatedly asked her to come back the following day, and he would tell her where her son had gone. Villagers told her the search was in vain. 'They told me I had gone mad, that I was mad', she says. She finally stopped looking for Ali after seeing her son in a dream. (AFP / Rebecca Conway)
Every time I've gone into someone's house in a village,  I have met survivors like that. It's another thing that stays with me and that keeps me wanting to keep shooting the story. These people are still living with deep levels of pain and depression and PTSD. Their stories are much more long-running than a protest or an upswing in violence and it's an ongoing aspect of the unrest in Kashmir that's woven into daily life there.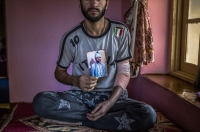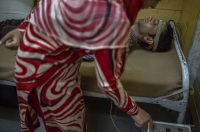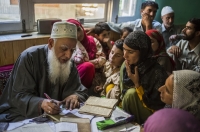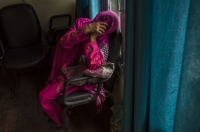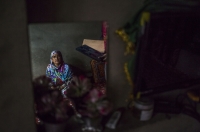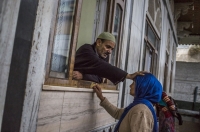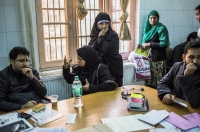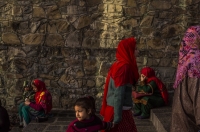 I also spent a lot of time in both of Srinagar's government mental health facilities, working alongside a very dedicated, very in-demand team of psychiatrists and other staff, in another side to the story that will stay with me. I'd arrive at a hospital ahead of the start of, say, a clinic for out-patients being treated for trauma, and the waiting room would always already be overflowing with people waiting for consultations, repeat prescriptions, referrals.
If you stand in the pharmacy though, that's another time when the enormity of Kashmir's mental health situation is laid bare. I'd wait to photograph people collecting medication used to treat depression and patients would be crowding the window of the dispensary waiting for a new prescription to be filled. The window has these little bars on it that patients have to reach through to get the next few weeks' worth of pills and that was quite heartbreaking to watch.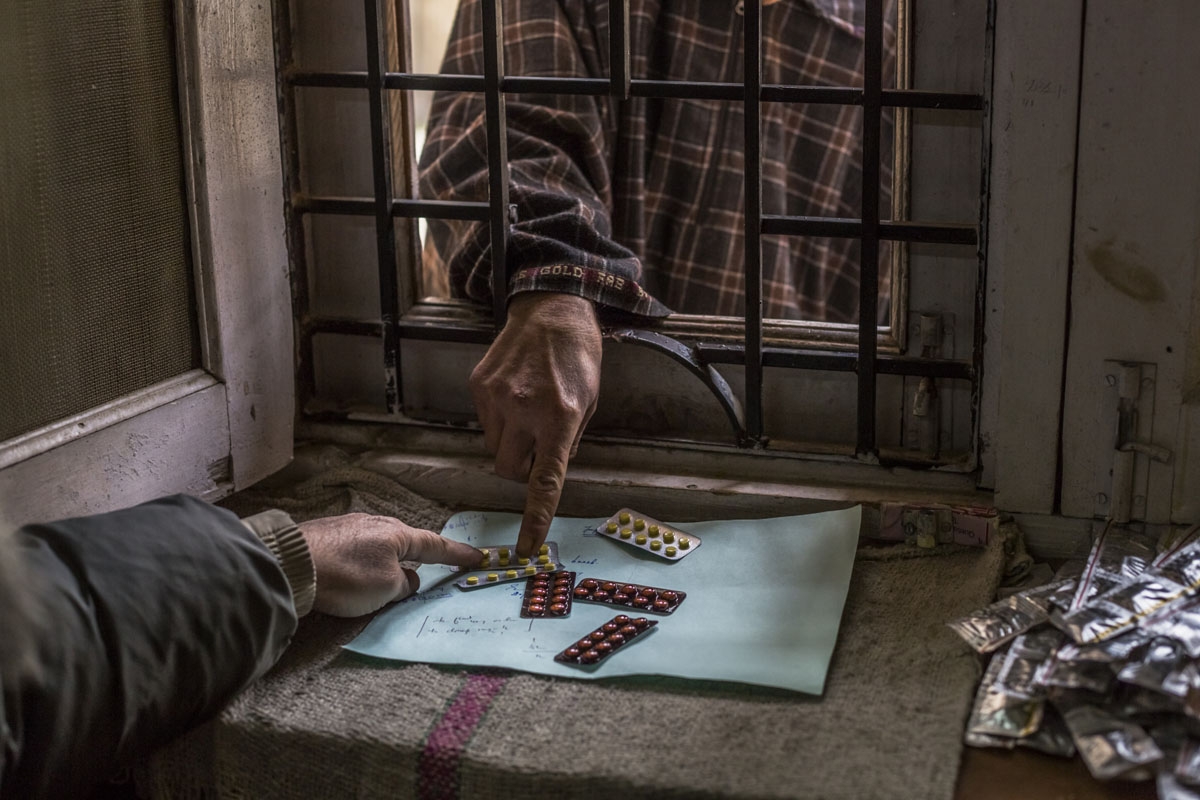 Collecting prescription anti-depression drugs at a dispensary in Srinagar. December, 2015. (AFP / Rebecca Conway)
People counting out the pills they travelled all morning to get, knowing that they have to come back in a few weeks to go through the process again.
The Kashmir Valley is strikingly beautiful but it is blanketed by this air of oppression and almost mournfulness; living with that is what I'm I'm going to keep trying to show through this work.

This blog was written with Yana Dlugy in Paris. You can find the full photo essay here. You can read the story on Kashmir coping with the tide of trauma here.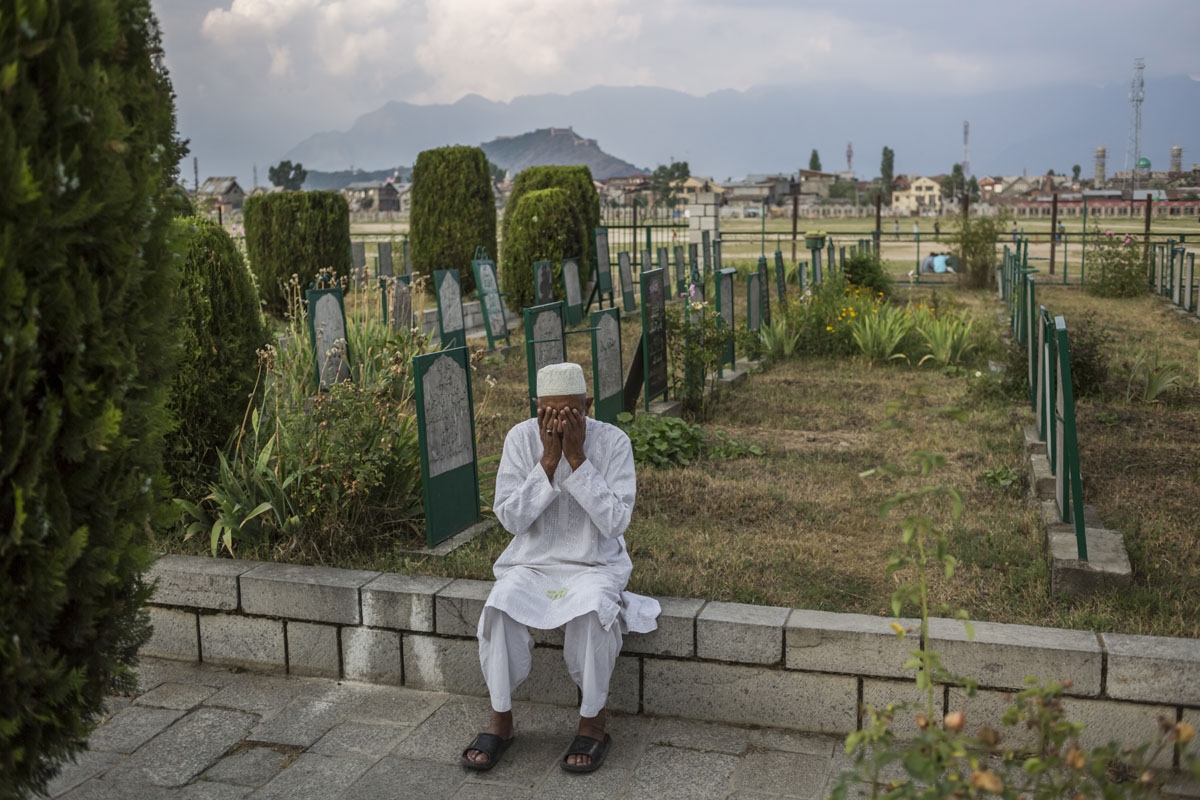 Praying at a cemetery in Srinagar. June, 2016. (AFP / Rebecca Conway)